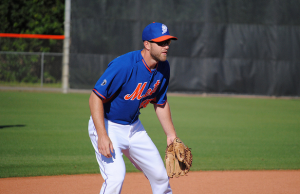 Friday night Eric Campbell got a start in left field because a lefty was on the mound and he delivered a game-winning home run. For the season Campbell has a .299/.345/.403 mark in 148 PA but cannot find a spot in the lineup to play on a regular basis. A third baseman by trade, Campbell put up a 1.016 OPS when he got to play the hot corner this year. But with David Wright around, those opportunities are few and far between.
Campbell has also seen time at the other three infield positions and both corner outfield spots. In a way, you can say Terry Collins is trying to get him into games as much as he can. Still, the feeling that he should receive more playing time than he does keeps following me. Among the 13 players for the 2014 Mets to log at least 100 PA, Campbell ranks third with a 114 OPS+.
It seems like some of you are thinking – OK, smart guy, where should Campbell play to get these additional at-bats you want to see him get?
Collins seems committed – as much as the non-blinking one allows himself to be to any idea – to a left field platoon of Campbell and Matt den Dekker. He should get a start or two per week that way. Then let's give him one start a week at third base. And then let's give him another start each week at shortstop.
The guffaws and the howls are deafening.
This is Wilmer Flores' shot at an everyday job and you want to bench him already? And for a guy with virtually no experience at the position who may be even worse defensively? Well, yes, that's exactly right.
First off, if Campbell plays once a week at short, that's hardly killing the chances of Flores to establish himself at the position. It's just giving Campbell something of a shot. In 236 PA, Flores has a .548 OPS in the majors. Starting the last nine games, he has a .492 OPS. Campbell has a .748 OPS and earlier this year when he got the shot to play every day when Wright was out, he put up a 1.054 OPS in seven games.
While it is way too small of a sample size to be predictive, hopefully it's suggestive of a guy who deserves another shot at continuous playing time. Shouldn't Campbell get as much of a shot as, say, Kirk Nieuwenhuis?
Let's look at the minor league numbers, when both Campbell and Flores got a chance at regular playing time in Las Vegas. In 704 PA, Flores had a .903 OPS in Triple-A. Playing in the exact same park, Campbell had a .926 OPS in 588 PA. There's no reason to prefer Flores based on production in either the majors or Triple-A.
But what about the age difference, with Flores being four years younger? Well, that's why Flores should get to play five times a week at the position and Campbell only once.
Flores needs to get the bulk of the playing time, in part because of his age and part to remove all doubt about his ability to play the position defensively, either in a good or bad way. Yet Campbell should get a shot to get his feet wet at shortstop and then spend the offseason in Instructional League and a Winter League getting regular reps at the position.
It may be completely ridiculous trying to turn Campbell into a shortstop at the major league level. At least Flores grew up playing the position. But with everyone agreeing that the 2014 postseason is no longer on the table, the Mets need to be creative to get Campbell into the lineup. Good things happen to the Mets when Campbell plays.
The ball seemingly jumps off the bat for Campbell and to my eye he seems better equipped to hit major league pitching than Flores. Maybe that's just the age difference or maybe it's because Campbell's a better hitter. Either way, there's nothing wrong with giving Campbell seven or so starts at shortstop the remainder of the season.
In Rafael Montero and Bartolo Colon, the Mets have two starting pitchers who give up more fly balls than grounders. That presents Collins with good matchups to get Campbell some work at shortstop the remainder of the season.
It seems reasonable to think that the Mets will pursue a shortstop with more urgency this offseason than in the previous one. Additionally, Matt Reynolds will deserve a shot after the year he put up at the two highest levels of the minors this year. It's never going to be easier to find playing time at short for Campbell than it is right now.
Here's hoping we get to see his bat in the lineup more consistently the last 39 games of the season.