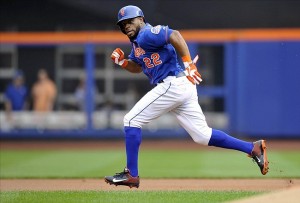 Next up in our projection review series, we'll take a look at the forgotten man of the Mets, Eric Young, Jr.
In spring training, Manager Terry Collins caused a small stir when he off-handedly mentioned that Young, Jr. – with his superlative speed — would make an ideal lead-off hitter for a club that was lacking an obvious candidate for that lineup spot. It didn't take all that long for that plan to be abandoned and Chris Young be handed the left field job as soon as he was healthy. It turned out to be a matter of debate as to whether Young, Jr. might have been an improvement over the other Young. The fact was that even a "traditionalist" like Terry Collins could see that Young, Jr. simply didn't reach base often enough to stay in the lead-off spot, no matter how swift he might be. Most of the time, it was either Curtis Granderson or Juan Lagares starting things off. As a result, Eric Young, Jr. languished on the pine for long stretches of the season.
Here's what we at the ol' Three Six Oh thought he would do:
PA – 376
AVG – .257
OBP – .322
SLG – .356
HR – 2
RBI – 29
SB – 28
Here's how Young, Jr. actually did with the best and worst individual projections among our group.
PA – 316
Best – Ferguson (350)
Worst – O'Malley (576)
AVG – .229
Best – Parker (.230)
Worst – McCarthy (.274)
OBP – .299
Best – Walendin (.301)
Worst – Ferguson (.349)
SLG – .311
Best – Parker (.325)
Worst – Hangley (.381)
HR – 1
Best – Ferguson, Koehler (1) !
Worst – Hangley (6)
RBI – 17
Best – Parker (20)
Worst – Hangley (41) Boy, did I miss the boat, here.
SB – 30
Best – Ferguson, Koehler, Manners (30) !
Worst – Parker (15)
Clearly, I was a bit more bullish on Young, Jr. than any of my colleagues, at least in the power department. In any case, Young, Jr's. season looks like a classic illustration of the "Peter Principle" – the theory that each individual will eventually rise or fall to a position befitting his or her natural skills — in action. Young, Jr. became what most projected him to be: a fourth or fifth outfielder with speed and a good glove. His status is also hampered by the fact that two younger players – Matt den Dekker and Kirk Nieuwenhuis – bring similar skill sets to the team, at a cheaper price tag at the moment.
For all his exciting speed, 2014 might be the last time we see Eric Young, Jr. in a Mets uniform.
Follow me on Twitter @CharlieHangley.