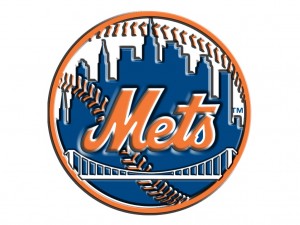 The early offseason is typically a happy time for most teams and their fan bases. The top free agents are all coming to your favorite team, unless you're convinced that your GM is going to trade magic beans and get back an impact player. There's some of that with the Mets this offseason but it also comes with a giant dose of anger.
Met fans hold management and ownership in contempt right now, just walking around looking for a reason (real or imagined) to trash them. As the losing seasons and the lies that have gone with them pile up, it's an understandable reaction. Besides, while not preferable, anger beats apathy any day of the week.
If you read the blogs you'll find no shortage of what the Mets have to do this winter. They have to get a power hitter, they have to get a left fielder, they have to get a shortstop, they have to get rid of certain contracts and so on. Yet if you look at the roster, it's amazing how little the team actually has to do.
The 2014 Opening Day roster contained six players who were not in the organization at the end of the 2013 season. And it still included Ike Davis and did not yet include Kyle Farnsworth, who made his Mets debut on April 2nd.
Meanwhile, if Monday was somehow April 6th, the Mets' Opening Day roster could look like this:
SP – Harvey, deGrom, Wheeler, Niese, Colon
RP – Parnell, Familia, Mejia, Torres, Edgin, Montero, Gee
C – d'Arnaud, Recker
INF – Duda, Murphy, Flores, Wright, Tejada, Campbell
OF – Granderson, Lagares, den Dekker, Nieuwenhuis, Young Jr.
Now, to be crystal clear, I am not advocating for this to be the team's actual Opening Day roster. Rather this is merely to point out how different this is from recent past years where the team truly had to do things in the offseason to field a representative, competitive team.
There's no dumpster diving necessary for the starting rotation. There's no mad scientist surgery required to assemble a bullpen. There's no scramble for a backup catcher. There's no importing of a veteran outfielder hoping to catch lightning in a bottle.
It seems to me that the progress the team has made gets lost in the anger.
Sure, it would be wonderful if the team added a Gold Glove caliber shortstop who could also hit. It would be terrific if they acquired a 30-HR caliber corner outfielder. And it would be outstanding if they acquired a LHP-mashing first baseman who would be content to sit on the bench mostly just to give Lucas Duda a day off every now and then against a tough lefty.
Sandy Alderson should be trying to do all three of these things this winter. But he doesn't have to do any of them. Sure, sure, the fan base will burn him in effigy if he doesn't make a move to address either SS or LF. But armed with a new three-year contract, Alderson has zero reasons to worry about what the fans think.
There's a reason the phrase "a New York minute" exists. Five-year plans may play in backwaters like Kansas City and Pittsburgh but here the natives demand more. Pay no mind to the fact that the team had seven straight losing years before they cracked .500 in 1969. Forget that the Mets went six consecutive years in the 1990s with a sub .500 record. And don't even think about mentioning that despite having relatively more money to spend, Frank Cashen lost 90-plus games in three of his first four years (and didn't make it all four only because of the 1981 strike, a year when the Mets played at a dismal .398 winning percentage) and the team had lost 90-plus games three straight years before he arrived on the scene.
If things break right with injured players bouncing back and youngsters keeping gains made last year, this team will match Cashen's fifth year with a winning season without making any additions. Of course, all of the things won't break right, which means this offseason isn't the one to push all of the chips into the middle of the table.
There's a time not to care if you "win" a trade or if you "overpay" for a productive free agent. The Mets aren't there yet. Last year, the Diamondback wanted Noah Syndergaard for Didi Gregorius and Stephen Drew wanted a three-year deal for big bucks. Alderson was right to say no to both of those things. He would be right to say no to both of those things again this offseason.
Perhaps the All-Star break or the trade deadline will be the right time for the Mets to overpay – if most of the question marks are answered in a good way, the Mets are legitimately in the race and they have one obvious weakness. And of course if a good trade or free agent signing is available now, Alderson should act.
The last thing the Mets should try to do now is to win the offseason with high dollar moves acquiring older players that casual baseball fans have heard of because they were good five years ago. Andre Ethier, I'm looking at you here. Or overpay in prospects to get guys who are only temporary solutions like the previously mentioned Gregorius.
Instead, the Mets should be making a move for Alex Gordon or Yasiel Puig or Troy Tulowitzki (assuming the latest injury checks out). Guys who are true difference makers. The Mets shouldn't overpay to get any of these guys – or anyone else in this category not named. But they should be willing to pay fair market value to get them now.
If the Mets make no moves because the Dodgers wanted Dilson Herrera, Rafael Montero, Kevin Plawecki and Syndergaard for Puig, then that's fine. But if they make no move because the Royals wanted Montero for Gordon, well that's another story. And I say that as a guy who wants to see Montero in the rotation and Matt den Dekker in the starting outfield for the 2015 Mets.
Alderson should be in discussions with teams that have actual current stars on the market, looking to swing the proverbial win-win trade. Given Alderson's trade history, odds are against this type of deal happening. But the Mets have moved past the dumpster diving model and they're not in the overpay model, either.
Conventional baseball wisdom states that sometimes the best moves are the ones a team doesn't make. An offseason where the Mets make no major deals may just fall into this category. The question remains: Will an angry fan base accept that?