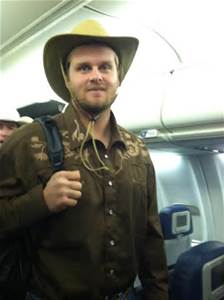 Here are some links and stories you might have missed during the weekend to get your Monday started:
Friend of the site Greg Prince of Faith and Fear in Flushing has a rather lengthy piece on Lucas Duda's breakout season, naming him the Nikon Camera Player of the Year Award winner.  Prince chronicles how Duda blossomed into one of the best offensive first basemen in all of baseball, and puts his 2014 season into excellent perspective.  You're going to need to block out some time to get through it, but it is a very enjoyable read.
Matt Ehalt of The Record takes a look at some of the Mets' options heading into the Winter Meetings.  There's nothing quite groundbreaking in anything he suggests in the article, except for the lede. "The Mets likely made their big move of the off-season when they signed veteran outfielder Michael Cuddyer to a two-year deal in November," he says.  If that turns out to be true, that is an outrage.  A team positioning itself for a playoff run that still has holes to fill and playing in the largest market in the country having Cuddyer's deal be the big move of the offseason is a joke.  But then again, the Mets have been unable to prove that they are anything but a joke organization.
Over at Mets Minors, John Bernhardt has a reflection on the Binghamton Mets' Eastern League championship season in 2014.  Here's to hoping that the Flushing Mets win a title soon.
Last but certainly not least, here at Mets 360, Brian Joura looked first at a plan for an MLB expansion in the future, then at who the Mets would protect in the case of such an expansion.  As a fan of hypotheticals like this, the two pieces are highly recommended if you haven't read them yet.