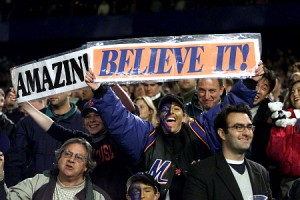 When teams are competing for championships, their "window" for contention is often talked about.
The Texas Rangers had a short championship window, from about 2009-2012.
The San Francisco Giants' championship window opened up in the 2009 season and is still wide open.
The Detroit Tigers window is preparing to slam shut as their stars continue to get another year older and the farm system shows little signs of reinforcements on their way.
For most teams, the championship window is determined by a number of things – chiefly the young players coming up through the minor league pipelines, the development of existing major league players, and of course the ability of the front office to bring in supplementary players to fill holes on the roster and replace ineffective, aging veterans.
So what does this mean for the Mets, and any potential championship window they may have in the near future?
As has been well-chronicled over the past few years, there is no shortage of minor league talent on its way to Flushing over the next few years.  With Noah Syndergaard, Steven Matz, Cesar Puello, Kevin Plawecki, Brandon Nimmo and Dilson Herrera set to make contributions in 2015 and 2016 and a depth of talent at the Single-A and Double-A levels, there are surely going to be plenty of new names coming to Citi Field to replace the likes of Curtis Granderson, Michael Cuddyer and Bartolo Colon soon.
Of course it is unrealistic to believe that all the prospects will pan out as planned, or that they will ever sniff the majors with the Mets or any other team.  But the same can be said for every team and with prospects there is strength in numbers, and the Mets certainly have numbers.
The second part of the equation is a bit more of a mixed bag of tricks.  Sure, Matt Harvey, Zack Wheeler, Jacob deGrom, Travis d'Arnaud, and Juan Lagares provide a solid core of "young" players who should grow together, but Daniel Murphy and David Wright are on the wrong side of 30, and Lucas Duda will be 29 by Opening Day.
Also, let's not pretend that just because a guy only has one or two seasons under his belt means that he's that young.  In 2015, Harvey will be 26, deGrom 27, d'Arnaud 26, Vic Black 27, Wheeler 25.
For comparison, Clayton Kershaw will be 27 this year and is entering his eighth season in the Major Leagues.  These players are all either in their athletic primes right now or will be within the next two seasons.
It is not that we should expect to see some kind of radical drop off in their play anytime in the near future, but rather a reminder that these next two to five seasons are likely going to be the peak for these players.
Then there comes the question of their impending arbitrations and free agencies.  According to the numbers at Cot's Contracts, Murphy, Colon and Bobby Parnell are all free agents at the end of 2015.  Dillon Gee, Duda, Jenrry Mejia (thanks, Omar), Ruben Tejada, John Mayberry Jr., Carlos Torres, Harvey, Lagares, Anthony Recker, Jeurys Familia, and Josh Edgin are all eligible for arbitration at the end of this year.
That's going to get very expensive, which brings us to the third element of the Mets potential championship window: bringing in players to fill holes and replace ineffective players.
Here's where they fail – they haven't demonstrated the ability to expand payroll enough to even bring in a badly-needed shortstop or second bullpen lefty this offseason.  How ownership is going to have enough money to deal with the expanded contracts resulting from the upcoming arbitrations of their young core alone is mystifying, let alone how they can bring in more players without dealing significant pieces.
Sadly, those kinds of questions are not ones that teams that are trying to open up a championship window have to think long and hard about.  If a team is trying to win a World Series and they need a shortstop, they go out and get one.  They don't sit around and wait for somebody to maybe develop into a decent regular.  They deal and get as sure of a thing as they can.
Until ownership begins to behave differently the Mets window of relative competitiveness may only be open for another year or so, before it comes time to blow it up for payroll reasons.  Let's hope that's not the case though – but that would require the Wilpons stumbling upon a few hundred million dollars, or the sale of the team.  Either way is fine, so long as that window is propped up.