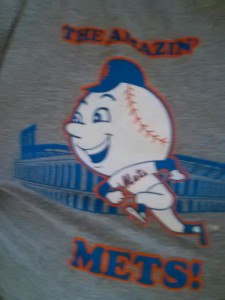 The playoffs landed at La Guardia for the first time since 2006. To say that Mets fans the world over were thrilled about this might be the understatement of the year. A hard fought 162-game regular season – which began with an 11-game winning streak and culminated with the dispatch of the Washington Nationals with relative ease – was capped by an absolute pummeling of the Cincinnati Reds to clinch the National League East. The final week was a moot point, with the only thing to play for being home field advantage in the National League Division Series. Relatively speaking, the Mets' failure to secure it was their only major shortcoming in this storybook of a season. They took game one from the Dodgers in LA in a fairly brisk fashion, with Jacob deGrom brilliant and Clayton Kershaw slightly less so. Game two was a different matter entirely, with Zack Greinke shutting down the Mets after two early gopher-balls and it was, of course, marred by the egregious Chase Utley's disgustingly filthy slide that took away Ruben Tejada for the year.
So Citi Field itself was basically silent – save for some MSM-driven silliness regarding Matt Harvey – until this past Monday night, when teeming throngs gathered for the ballpark's first foray into postseason play. On Monday night, silent, it was not. It was loud, louder than ever, even louder than this year's opener and that was pretty damn loud. The parking lots opened early as tailgates were set up and greetings exchanged. There was what could be described as a tense confidence in the crowd during the pre-game festivities. We were all pretty sure the Mets were going to win this game – with no trace of Kershaw or Greinke to be found and Harvey taking the ball to avenge Tejada, if nothing else. By the time 8:00 rolled around and player intros began, we fans were in a froth. Every member of the Dodgers' travelling party was booed lustily. I mean, even the travelling secretary and the strength/conditioning coach were hooted. The loudest jeers, of course, were reserved for Utley, whose opprobrium was so loud, you could barely hear the names of those reserves who came after. Incredibly, it only got louder when Tejada was introduced and hobbled from the dugout leaning on a cane. And it never stopped. While Utley remained on the bench and the Mets put run after beautiful run on the board, the chants of "We want Utley!" rose into the night, in full-throated yawp from 44,000. One section over from mine, there was an odd chant. It went "Ut-ley…" then something unintelligible. We finally figured it out when a small blonde girl, no older than eight-years-old, came down the steps with a placard the read "Utley U Buttly." So the chant was actually "Ut-ley Butt-ly" followed by five handclaps. When the final out was made sometime past midnight, we all laughed and toasted ourselves and looked forward to Tuesday, when the Mets would put a wrapper on this thing and send Kershaw, Utley and the rest sulking back to Cali.
The next night, though, the air was markedly different. This was more like a late-season, pennant race atmosphere, where nothing's been decided and it can all be taken away in one unfortunate evening. We were tense again, but more edgy and less at ease. It was plenty loud again, but in spurts, rather than the sustained roaring that accompanied every pitch of game three. Undoubtedly, the presence of Kershaw on the hill stifled some of the confidence and he was breathtakingly brilliant on this night, completely baffling eight of the nine Mets hitters – save for Daniel Murphy who took him deep. So we cheered when we had something to cheer about, but those moments were painfully infrequent. We stirred ourselves when Dodger manager Don Mattingly inexplicably removed Kershaw in the eighth, but Murphy's fly to shallow center to end a brief rally released all our steam.
We've now had a day to recover. Game five is looming moments away and deGrom is revisiting the sight of his first post-season flowering. With Greinke on the mound for LA, the tension remains, but somehow, the confidence is back. Call it a gut feeling, but this is going to be the kind of game that will be decided late and by someone unlikely — think a clutch RBI double or sliding catch by Kirk Nieuwenhuis, maybe both.
The plan over here is that Citi Field will be loud again when the Chicago Cubs visit on Saturday night. Let's go, Mets!
Follow me on Twitter @CharlieHangley.