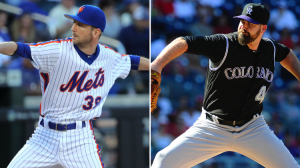 With or without Jay Bruce, the Mets appear to have sufficient depth in the field and in the lineup going into spring training. And with last season's emergence of Robert Gsellman and Seth Lugo, we have rotation depth. However, the bullpen remains a few fries short of a happy meal.
The back end, with Jeurys Familia (once we skate through his expected suspension) and Addison Reed, is solid. Hansel Robles gives us another hard-throwing right hander for middle relief and Seth Lugo gives us a long man/spot starter. Until he's ready to bump Gsellman from the rotation, Zack Wheeler could make for an exciting option in a setup role. What's missing is the reliable lefty; not necessarily a LOOGY, but rather a complete pitcher who happens to throw from the south side and can be called upon when Bryce Harper, Daniel Murphy or Freddie Freeman is up with men on base in the late innings.
Currently we have Sean Gilmartin, who was putrid last season, Josh Edgin, who looked solid a few years ago but was rusty working his way back from Tommy John surgery last season, and Josh Smoker, who throws hard and can strike people out, but seems to give up too much solid contact. Also in the mix is the recently signed Adam Wilk, a 29-year-old who has spent most of his career in the minors, with a few forgettable short stints with the Detroit Tigers and L.A. Angels. Between those four, one could emerge as an extra lefty in the pen, and those guys could rotate out of triple A Las Vegas and the big league club as performance and injury dictate. However, none of them is a viable option to fill a needed role as a go-to lefty in high leverage spots.
Yes, the Mets could come up with a seven or eight-man bullpen to start the season, and we could wait and see if one of the flawed in-house options could fit the bill of a reliable lefty. Most likely we'd learn the hard way that we'd need to trade assets for quality lefty in July. By then we may have already blown a few winnable games by watching Edgin or Smoker give up 3-run home runs to Harper or Murphy. All in the name of saving a few bucks, this seems really silly.  Yes, we're stuck paying $13 million for the superfluous Jay Bruce for now, but that shouldn't prevent a contending team from spending $5 or $6 million to bring back Jerry Blevins or sign Boone Logan to properly fill this needed role.