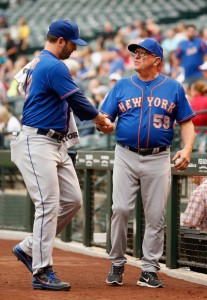 Well, when your intrepid columnist is wrong, he's the first to admit it. Back in the most recent Dark Age of Metsian fandom, when the purge of the Willie Randolph/Jerry Manuel regime occurred, it was beyond comprehension how pitching coach Dan Warthen survived. Warthen looked like your kindly old uncle who told you stories that had no point, stuff that made no sense. In some circles, he was derisively dubbed "Floyd The Barber," after the dotty Andy Griffith Show character of yesteryear. After all, the collapses of 2007 and '08 could be blamed squarely on the failures of the pitching staff: in '07, the starters faltered, in '08, it was the bullpen. As pitching Grand Poobah, it was Warthen who oversaw the demise. There were some fine young pitchers on the roster, but they never seemed to improve. The John Maines, Mike Pelfreys and Oliver Perezes of the world continued to disappoint. And when pitcher after pitcher went down with injury, when trainers were being booed, team physicians being replaced and the "LOLMets" trope was in full flower, Warthen was the common denominator. When Sandy Alderson took over as General Manager and fumigated the clubhouse, the designated survivor was Dan Warthen. The thinking over here was that that was a major mistake and would sabotage any efforts to move forward with all the young pitching we'd been promised. If Terry Collins found himself on shaky ground as manager – and he did at times between 2011 and 2014 – most assuredly, it would be Warthen who would be the first to go, probably as a warning sign.
Boy, when you're wrong, you're wrong.
It can be argued that Warthen is one of the main reasons the Mets have had so much success with their young pitching since 2013. Yes, of course these guys have all the natural talent in the world. You can't be taught to throw like Noah Syndergaard, Jacob deGrom or Matt Harvey – more on him in a minute. It's innate ability, something you're born with, and there's only so much a pitching coach can do to refine it. Well, somehow, Warthen has managed to do that. He has introduced what's come to be known as the "Warthen slider" into the repertoire of the gunners mentioned above, giving each another weapon with which to strike at National League batters. Apparently, it's working its way through the minors as well, as the successes of Robert Gsellman and Seth Lugo can attest.
Harvey pitched against Miami yesterday, his third spring outing, and for the third time this spring he demonstrated a distinct lack of velocity and, consequently, for the third time this spring, he got lit up. He could only slog through three and two-thirds innings, giving up five hits, four runs and striking out three. His fastball speed barely touched 94 MPH. Having just come through surgery to correct something called thoracic outlet syndrome – a surgery which involved the removal of a rib – Harvey's loss in velocity is understandable, but still alarming. There's really no roadmap for recovery from thoracic outlet surgery. It's not like Tommy John, where hundreds of pitchers have come through it and there's a definite recovery timetable. TOS surgery is still relatively rare and we don't know if Harvey's velocity will every fully return. Marc Carig of Newsday asked Warthen about it, and like your kindly old uncle, he was reassuring. When asked when he thought Harvey's velocity would return, he said "End of May." That would be a nice Memorial Day present, wouldn't it?
Leave it to your kindly old uncle to bring the juiciest watermelon for the picnic.
Follow me on Twitter @CharlieHangley.