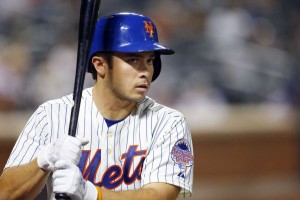 Surprise! Travis d'Arnaud is hurt again. The Mets placed the injury magnet on the disabled list with a bone bruise on his right wrist on Friday and he's expected to miss at least a couple of weeks. This is an annual event at this point, but the circumstances surrounding it fall in line with what Mets fans have become accustomed to in recent years: poor injury management. Specifically, we've watched the Mets rest players for short spurts before sending them back to the field where they inevitably sustain a more serious injury for being rushed back.
This year we've seen some high-profile cases in Yoenis Cespedes and Noah Syndergaard gain large-scale attention, but d'Arnaud has fallen victim to the same mismanagement. He actually hurt his wrist back on April 19th while trying to throw a runner out at second base. Rather than keeping him from any kind of baseball activity, however, the Mets had him pinch hit for a few games before getting him back into full-time action just a week later. You read that right. In their infinite wisdom, the team let him continue to bat with a wrist injury. Unsurprisingly, he re-aggravated it on a swing on Tuesday, leading to tests that revealed the bone bruise.
Back in February Brian posted a quote from a Baseball Prospectus article outlining how d'Arnaud's increased contact on balls outside the zone, and generally poorer contact quality, versus his 2015 may have correlated with a surge in his ground ball rate and thus a poorer performance in 2016. We've been seeing a similar trend so far in 2017, with an elevated ground ball rate and decreased line drive rate.
But frequent commenter Jimmy P brought up a very interesting point in the comments section of that post, noting that we tend to analyze results outside the context of circumstance. Specifically, d'Arnaud was battling a rotator cuff injury he sustained early in the season that very likely affected him even after he returned from his trip to the DL in late June. While he wasn't exactly lighting the world on fire before he went down, it stands to reason that the shoulder was a lingering issue for both his bat and his ability to throw out runners through the season's duration.
We may have already seen hints of this in 2017. Leading up to that April 19th injury, d'Arnaud had been slashing .286/.375/.571 with an OPS of .946. Seven of his 10 hits were for extra bases and he knocked in nine runs in 11 games. He then slashed .083/.154/.333 with an OPS of .487, including his 2-homer and 5-RBI game, in the 11 games from April 19th until his last on May 2nd. We always have to caution that small sample sizes play a role here, but there is a clear demarcation point within the extremes of his 2017 performance thus far.
This isn't meant to dismiss the fact that he gets injured way too often, of course, but it may go a long way in explaining why he's been so maddeningly inconsistent during his time in the majors. He was fantastic in 2015, but even then he only played in 67 games. The key there, as it relates to the discussion at hand, is that the severity of each injury was immediately obvious and allowed little room for the Mets to misdiagnose or mismanage. Additionally, the 2015 Mets (particularly their first half version) didn't have the expectations of the 2016-2017 teams. The pressure to win can lead to questionable decisions, to say the least.
I would be remiss not to point out that this is all mostly circumstantial. However, the fact of the matter is that this team has become notorious for mishandling the injuries of their biggest stars as well as players at the end of their bench. D'Arnaud has shown that he can be an offensive force behind the plate when fully healthy. It's on the Mets to ensure that he and the rest of the roster are put in the best position to succeed rather than playing through injuries that put the player and the team at a disadvantage. Half a season of 2015 d'Arnaud is much more valuable than a full season of the 2016 version.