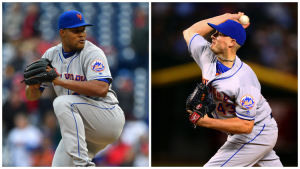 Despite Jeurys Familia's impending suspension for domestic violence when the 2017 season started, the back end of the Mets' bullpen looked to be a strength with Addison Reed holding the fort until his return. Familia was coming off his best season in 2016, earning his first All-Star nod en route to blowing away the Mets' single season save record with 51.
Reed, no slouch himself, also turned in a career year in 2016 with a dominant performance of his own. It was a two-headed monster that, understandably, Mets fans were excited to see shut down the opposition as the 2017 Mets inevitably soared towards the post-season.
We sure were excited here at Mets360, as our projections below show:
| | IP | ERA | WHIP | Saves |
| --- | --- | --- | --- | --- |
| Familia | 62.7 | 2.53 | 1.175 | 37 |
| Reed | 76.7 | 2.40 | 1.120 | 11 |
Well, things didn't turn out as we had hoped. Here's are they actually did, with the best and worst individual projections among our group and starting with Familia:
IP – 24.2
Best – Rogan (53)
Worst – Ryan (73.3)
ERA – 4.38
Best – O'Malley (2.86)
Worst – Netter (2.20)
WHIP – 1.46
Best – Hangley (1.27)
Worst – Ryan (0.97)
Saves – 6
Best – Barbieri (31)
Worst – Netter (45)
Familia wasn't quite himself when he returned, but before he could get back on track he went down with an arterial blood clot in his right shoulder. He didn't return until the end of August, and by then the season was down the tubes, Reed was gone, and Marlins closer AJ Ramos was now Mets closer AJ Ramos. It was a weird year.
Next up, interim-that-turned-out-kind-of-long-term-closer Reed:
IP – 76
Best – Rogan (76)
Worst – Barbieri (46)
ERA – 2.84
Best – O'Malley (2.80)
Worst – Barbieri (3.59)
WHIP – 1.05
Best – Netter (1.05)
Worst – Barbieri (1.26)
Saves – 19
Best – Walendin (16)
Worst – Barbieri, Fox, Netter, Ryan (8)
While Reed's 2017 wasn't quite as strong as his 2016, it was certainly a fairly strong season. That Reed ended the season in a Red Sox uniform bespoke the season's putrid turn, but hey the Mets got relief prospects for him or something.
The killer Reed-Familia duo of 2015 and (especially) 2016 never re-emerged, but at the end of the day that turned out to be the least of the Mets' problems this past season. With Ramos on the roster and a hopefully healthy Familia ready to reclaim his glory, it'll be interesting to see what direction Mickey Callaway takes with the back end of the bullpen. It's just one of many challenges facing him as he starts his Mets managerial career, though it'd be shocking to see anyone but Familia closing games in 2018.