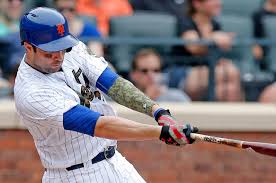 Next up in our preseason projection review series is former (and future?) Mets second baseman Neil Walker. Walker was yet another casualty of the injury epidemic that hit the team this year as he spent most of June and July sidelined with a hamstring injury. With the season down the tubes, the Mets cut their losses and Walker was included in the Great Veteran Expulsion of 2017, getting the Mets a Class A lottery ticket with a rocket for an arm from the Brewers. Our Mets360 projections are below:
PA – 535
AVG – .275
OBP – .339
SLG – .453
HR – 19
RBI – 71
FB% – 41.0
Here's how he actually did across both the Mets and Brewers, with the best and worst individual projections among our group:
PA – 448
Best – Koehler (400)
Worst – Hangley (582)
AVG – .265
Best – Hangley (.267)
Worst – Allison (.282)
OBP – .362
Best – Allison (.350)
Worst – Hangley (.316)
SLG – .439
Best – Fox (.439)
Worst – Hangley (.512)
HR – 14
Best – Rogan (14)
Worst – O'Malley, Hangley, Allison (22)
RBI – 49
Best – Koehler (60)
Worst – Hangley (87)
FB% – 41.7
Best – Joura (42.0)
Worst – Ryan (53.8)
Our group projection wasn't all that out of sync with the big systems and would have been a fine season for Walker to put up for the theoretically playoff-bound Mets. Unfortunately, most of us didn't take into account how long he'd be out with injury and I'm not sure anyone toyed with the idea that he'd be traded. The Mets have already said they'd be open to a reunion now that they're in the market for a second baseman this offseason. They could do worse, certainly, but there are potentially better options to be had on the trade market this winter.