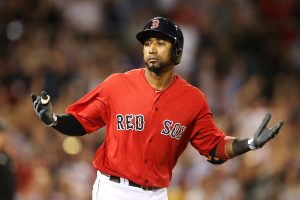 Kudos to Sandy Alderson for waiting out the market and bringing back Jay Bruce on a reasonable contract. No, he's not a perfect player, but he clearly fills a number of needs. However, at last check, the power hitting right fielder/first baseman can't bat lead off or play second or third base, so at least one more move is needed to round out the Mets' lineup.
If recent reports are accurate, the cost-conscious Mets may not have much money left to spend. Alderson has reportedly been flirting with trades in hopes of not only adding an infielder, but also unloading a player or two (A.J. Ramos, Juan Lagares) to offset the salary of someone like Josh Harrison, Cesar Hernandez or Jason Kipnis. Kipnis is reportedly off the market now, and Harrison would not be the most exciting addition. Hernandez, on the other hand, could provide nice defense at the keystone and add speed to the lineup from the leadoff spot.
If a trade can't be worked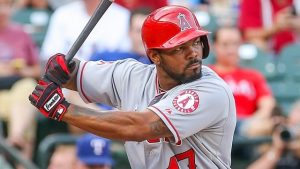 out, there are a number of options in free agency. It initially appeared that big ticket items like third basemen Mike Moustakas and Todd Frazier would be out of reach, but this winter waiting game has fueled speculation that these two hot corner bats might have to settle for fewer years and dollars. The Mets are reportedly "monitoring the situation." Either would plug the hole at third, shifting Asdrubal Cabrera to second base, and slot in fifth or sixth in the lineup. However, this alignment would leave us with a gaping hole atop the lineup. As this blogger made the case on last week's Mets 360 podcast, the Mets' biggest hole is not at second or third base, but rather the leadoff spot. A better and cheaper option is Eduardo Nunez. The 30-year-old speedster who came up as a Yankees utility man has developed into a nice player. Traded midseason the last two years, Nunez put up some solid numbers. Last season for the Giants and Red Sox he put up a .313/.341/.460 slash line with 12 home runs, 33 doubles and 24 steals. The prior year for the Twins and Giants, he slashed .288/.325/.432 with 16 home runs, 24 doubles, and 40 steals, good enough to earn an invite to the 2016 All Star game.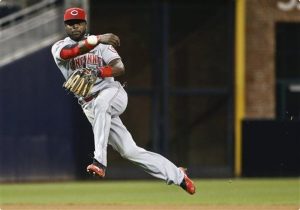 Should these third base options not fall into place, there are some cheaper options are available at the keystone, including Brandon Phillips, Jose Reyes and Howie Kendrick. Phillips brings defense, leadership and durability. Last season, between Atlanta and Los Angeles, the 36-year-old righty hit .285 with 13 home runs, 34 doubles, 60 RBI and 11 SBs. The three time All Star and four time Gold Glove winner just completed a hefty six-year contract, but given his age, he's not likely to receive another multi-year deal. The 34-year-old Kendrick, also brings experience and a solid right-handed bat (.291 lifetime), and also some versatility as he's played outfield and first base as well as second. Kendrick just completed a two-year, $20 million contract and may be looking for something similar again. Neither player is an ideal leadoff hitter, but would still fit the role better than anyone we currently have on the roster.
A cheaper option still would be to bring back Jose Reyes, who still has some speed and showed he can play an adequate second base as well as third. Reyes would love to return to the Mets and could probably be had on a very reasonable one or two year deal. In-house options would be cheaper still. Wilmer Flores is not the greatest second baseman and might be needed to platoon with Dominic Smith at first. T.J. Rivera, once back from Tommy John surgery, showed some pop last year and could also see some time at second. Gavin Cecchini is still a consideration as well. Though seemingly around forever, the shortstop turned second baseman is just 23 and should be able to handle the keystone defensively. His offense is another story though as he hit just .267 in AAA Las Vegas last season followed by .208 in limited big league duty.
Having a middle order of Michael Conforto, Yoenis Cespedes and Bruce is a good start, but we need someone to set the table in front of them if we want to see some real run production. Ideally our new leadoff hitter can also play second or third base.
Editor's Note – Before leaving a comment for this story, make sure you have read our new comment policy.