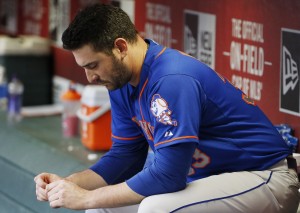 Matt Harvey is next up in our preseason projection review series, and to say he put forth a disappointing performance would be…well it would be a gross misrepresentation of the dumpster fire that was his 2017 season. His 2016 season was cut short after just 17 mediocre games and the revelation that he needed surgery to correct his thoracic outlet syndrome. There was some tepid hope for a bounce back season with the thought that his issues stemmed from his condition, and the variations across our Mets360 projections reflected just how much of a wildcard he would be in 2017. Our hopeful, collective projections for Harvey were:
IP – 172.3
ERA – 3.14
K – 173
BB – 39
HR – 15
FIP – 3.00
Contact % – 76.1
Taken as a whole, our projections foresaw a marked improvement for Harvey when compared to his 2016 performance, but obviously nothing like the pitcher he'd been in 2015. How close were we? Well, you already know the answer to that one. Here's how he did, with the best and worst individual projections among our group:
IP – 92.2
Best – Walendin (138)
Worst – Netter (215)
ERA – 6.70
Best – Allison (3.65)
Worst – Netter (2.38)
K – 67
Best – Walendin (117)
Worst – Netter (228)
BB – 47
Best – Hangley (47)
Worst – Walendin (31)
HR – 21
Best – Hangley (17)
Worst – Netter (9)
FIP – 6.37
Best – Allison (4.05)
Worst – Netter (2.31)
Contact % – 83.7
Best – Walendin (81%)
Worst – Allison (52.7%)
Shield your eyes, as even our most pessimistic projections didn't come close to reality. It was his worst season in almost every conceivable way. His strikeout rate was down, his walk rate almost doubled, his home run rate almost tripled, and his value over the season was in the negatives for the first time in his career. He was also suspended for three games for violating team rules. To top it off, he hit the disabled list with a fractured scapula that required surgery and a disabled list stint of over two months.
The silver lining, if you could call it that, with the injury was that it may have been the reason for such a poor performance (albeit not the poor attitude) early in the season. Unfortunately, Harvey was even worse upon his return in September, which did little to ease fears that he was broken forever. Nevertheless, the Mets (rightfully) tendered Harvey a contract for 2018 and his final year of arbitration. Hey, if he's going to have a comeback it might as well be with the Mets. Right?