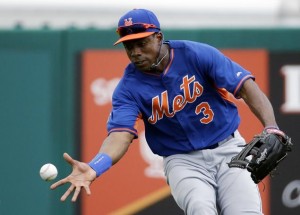 Curtis Granderson is next up in our preseason projection review series. Granderson was the last of the veterans shipped out last summer when he was traded to the Dodgers for relief prospect Jacob Rhame in August. The big unknown heading into the 2017 season, besides the potential for a drop off in production, was how much time he'd spend in center field after the Mets failed to trade Jay Bruce in the offseason. Our Mets360 projections for him, including projected games in center, are below:
PA – 567
AVG – .241
OBP – .341
SLG – .445
HR – 25
RBI – 70
CF – 83
As a whole, we predicted a bit of a decline in performance but nothing too drastic. Surprisingly, we saw him playing center field in roughly half of the team's games over the course of the season. Here's how he actually did across both the Mets and the Dodgers, with the best and worst individual projections among our group:
PA – 527
Best – O'Malley (508)
Worst – Ryan (655)
AVG – .212
Best – Rogan (.225)
Worst – O'Malley (.252)
OBP – .323
Best – Rogan (.320)
Worst – Hangley (.373)
SLG – .452
Best – Netter (.450)
Worst – Hangley (.517)
HR – 26
Best – Joura, Ryan (26)
Worst – Hangley (31)
RBI – 64
Best – Fox (63)
Worst – Hangley (97)
CF – 65
Best – Netter, Barbieri (65)
Worst – Hangley (145)
At the time of his departure he was having a pretty good year for the Mets. At the very least, he was on track to outperform his 2016. He had a rough go of it after the trade, though, seeing his wRC+ of 115 with the Mets plummet to 78 with the Dodgers. It was no surprise then that the Dodgers left him off of their World Series roster, particularly after his struggles continued into the postseason.
Despite his streakiness, and Terry Collins insistence that he was a leadoff hitter, Granderson had a relatively successful run in Flushing. His work off the field was particularly outstanding, and his presence in the clubhouse is likely to be missed moving forward.