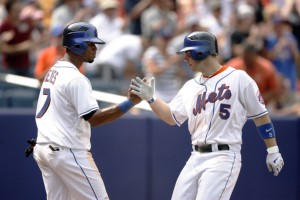 Next up in our preseason projection review series is a trio of infielders in David Wright, Jose Reyes, and Wilmer Flores. The Mets' infield picture heading into the 2017 season was a bit muddied in terms of who played where and how often. They needed to find playing time for the trio, and the question marks surrounding the health of Wright and Lucas Duda added a wrinkle to whatever formula they devised to spread the wealth. As such, our Mets360 projections attempted to factor in playing time via plate appearances:
| Player | PA | OPS |
| --- | --- | --- |
| Wright | 216 | .765 |
| Reyes | 433 | .711 |
| Flores | 378 | .750 |
Perhaps a bit surprisingly, we foresaw Reyes getting the most playing time of the three even though we also projected him to be the least productive. We weren't particularly bullish on Wright's playing time, and even then we were still too optimistic. We'll cover the actual production of Reyes and Flores below, but first a quick note on Wright. The poor guy can't catch a break, as he had to shut down his rehab after only three Hi-A games with shoulder trouble that led to rotator cuff surgery in September. A month later he underwent additional surgery on his lower back. It was the first year of his career that he didn't suit up for a single major league game and it certainly doesn't portend a positive outlook on his future in the big leagues.
Here's how Reyes and Flores actually did, with the best and worst individual projections among our group:
Reyes
PA – 561
Best – Ryan (574)
Worst – Koehler (350)
OPS – .728
Best – Rogan (.730)
Worst – Hangley (.820)
Flores
PA – 362
Best – Barbieri (335)
Worst – Hangley (213)
OPS – .795
Best – Fox (.795)
Worst – Allison (.673)
As a group we were on point with Reyes getting the most playing time. We undershot the playing time for both Reyes and Flores because of the time we allocated to Wright, though, and Reyes inherited the bulk of those at-bats. Interestingly, we underestimated the production for both Flores and Reyes by a good bit.
The Mets are once again entering a season with question marks surrounding the infield. Unlike 2017, however, the lack of viable starting options lies at the heart of the uncertainty. Duda is gone, Reyes is unquestionably no longer a starter, Dominic Smith and Amed Rosario are still very raw, Adrian Gonzalez…exists(?), and any fantasy that Wright will ever return to the diamond is all but squashed. Although the team re-signed Reyes as a utility player, it remains to be seen who starts at second and third, and time is getting short as we inch closer and closer to Spring Training.