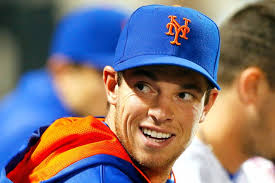 The next player in our preseason projection review series is our last pitcher, Steven Matz. Matz was quite good in the parts of two seasons he did pitch heading into the 2017 campaign, including his efforts for the team as they rocketed to the World Series in 2015. The problem, of course, is that he's had trouble staying on the field during his young career. Did his inability to stay healthy factor into our Mets360 staff projections for his 2017? See for yourself below:
IP – 158
ERA – 3.27
K – 150
BB – 41
HR – 14
FIP – 3.23
ISO – .087
Scant few of our writers foresaw anything resembling a full, healthy season for Matz in 2017. We did generally agree that his time on the field would be productive, however, and as a group we saw improvements (if slight) in most areas including the amount of time he spent actually on the mound. Here's how he actually performed, with the best and worst individual projections among our group:
IP – 66.2
Best – Walendin (132)
Worst – Joura (186)
ERA – 6.08
Best – Allison (3.97)
Worst – Fox (3.00)
K – 48
Best – Hangley (112)
Worst – Joura (180)
BB – 19
Best – Hangley (27)
Worst – Netter (60)
HR – 12
Best – Hangley (12)
Worst – Joura (18)
FIP – 5.05
Best – Ryan (3.52)
Worst – Walendin (2.96)
ISO – .000
Best – Fox, Koehler (.070)
Worst – Allison (.173)
To put it bluntly, Matz was a disaster and a key component of the Mets' problems in 2017. Those problems, of course, being poor pitching performance mixed with an inability to stay on the field. He started the season two months late because of elbow issues, and the Mets characteristically whiffed on managing it while it swelled to the size of a grapefruit after many of his 13 starts. He was finally diagnosed with ulnar nerve irritation and had ulnar nerve transposition surgery in August.
The bright side is that it's the same surgery from which Jacob deGrom has recovered nicely, and while it's not minor it could have been much worse. The downside is that it's yet another Mets pitcher undergoing yet another surgery. It will be interesting to see what Matz can do while not pitching through pain in 2018, but the chances that he ever pitches a full season are looking pretty slim.