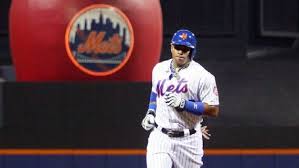 Next up in our preseason projection review series is Yoenis Cespedes, slugger extraordinaire. Cespedes predictably opted out of the short-term deal he signed with the Mets at the end of the 2016 season, once again becoming a free agent. The Mets, amazingly, ponied up the cash to re-sign him to a four year pact shortly thereafter. Cespedes wasn't quite as valuable in 2016 as he had been in 2015, though his wRC+ was 135 in both years. The drop in his overall fWAR (6.7 vs 3.2) mostly had to due with his poor defensive rating, particularly in center field, and time missed with leg issues.
The plan was to keep him out of center in 2017, which would theoretically limit the damage to his overall value as well as the stress on his legs. Even so, much of the Mets' success would depend on the defensive output of an outfield that was looking pretty ugly on that side of the ball. Our Mets360 staff projections below attempted to peg his UZR/150 in what would presumably be mostly left field in 2017:
PA – 611
AVG – .285
OBP – .343
SLG – .523
HR – 32
RBI – 102
UZR/150 – 2.7
The individual projections were generally very similar, leading to an overall offensive projection that matched pretty closely with his 2016 performance. Where the staff diverged significantly was in the projections for his UZR/150, with a range from -2.5 to 15.7. Here's how he actually performed, with the best and worst individual projections among our group:
PA – 321
Best – Fox (520)
Worst – Walendin (680)
AVG – .292
Best – Allison (.287)
Worst – Fox (.275)
OBP – .352
Best – Barbierr (.353)
Worst – Koehler (.315)
SLG – .540
Best – Koehler (.540)
Worst – Fox, Netter (.510)
HR – 17
Best – Barbieri (29)
Worst – Netter (41)
RBI – 42
Best – Rogan (88)
Worst – Netter (118)
UZR/150 – -5.2
Best – Barbieri (-2.5)
Worst – Ryan (15.7)
Like so many players we've reviewed so far, our projections were thrown completely out of whack because of the time Cespedes missed due to injury. He played in just 81 of the team's games after missing significant time with leg issues that the Mets, you guessed it, completely mismanaged.
When he was actually healthy enough to play he was having another very strong year at the plate, though. His power numbers were reminiscent of his 2015 while the improved walk rate he managed in 2016 carried over into 2017. Perhaps unsurprising considering the leg issues, his base running and defense were net negatives that dragged down his overall value. This was also the case in 2016, and it's not such a leap to say that he may now have some deep-seated trepidation when it comes to pushing it with his legs.
I'm tired of writing it, you're tired of reading it, but perhaps the steps the team has taken this offseason to restructure how they handle injuries will keep disasters like 2017 from happening again. For his part, Cespedes has stated that he'll tweak his training routine to focus more on resistance and agility in the hope of preventing, or at the very least lessening the severity of, injuries to his lower body.