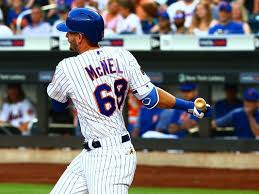 Jeff McNeil is not going to win the Rookie of the Year award in the NL this year, despite the fact he has been a hitting machine at the plate for the Mets. He was only called up in July, so he will have less than half a season with the team. Even if he had played all season with the Mets, there are a couple of NL rookies who are playing even better, Juan Soto of the Nationals and Ronald Acuna Jr. of the Braves.
That being said, if one were to project McNeil's production over a season, it would be in the ballpark with the production of the most recent NL ROY winners. McNeil, through Sunday's action, is slashing .323/.387/.468.
The NL Rookie of the Year in 2017 was Cody Bellinger of the Dodgers. His line for that season was .267/.352/.581. Bellinger had much better power, as evidenced by his SLG total. But McNeil was ahead in both BA and OBP, in the first case by 56 points.
In 2016 another Dodger, Corey Seager, won the award. His line was .308/.365/.512. Again McNeil has better figures in the first two categories and trails in SLG.
Finally in 2015 Kris Bryant of the Cubs took home the ROY Award. The third-sacker put up a line of .275/.369/.488. He lead McNeil by 20 points in SLG, but was behind in OBP and way behind in BA by 48 points.
McNeil did not have the greatest pedigree (12th round selection in 2013 June draft) but he was producing at the plate in the minors at both the AA and AAA levels earlier this year. After being called up he has basically taken over at second base for the Mets after Asdrubal Cabrera was traded.
His defensive skills were thought to be a little shaky, but he has handled second pretty well so far in the big leagues. He has just one error in 121 chances at second base so far this season. He also has made several nice defensive plays, and he has shown improvement at turning double plays.
On a team that has been deficient in speed, McNeil has shown decent ability on the base paths. He has picked up four SB while being thrown out just once.
So it is fair to say that McNeil is having a Rookie of the Year type season, despite the fact that he will not and should not win the award. Far more important than any award is the prospect that McNeil looks like a long term fixture at second base for the Mets. He may not be a big home run threat, but if McNeil continues to be a solid fielder at the premium position of second base, and continues to be a productive hitter with extra-base power, he could be an important contributor for the Mets for many years to come.