If asked to name three rookies from the 2018 season, chances are you would name Ronald Acuna Jr., Juan Soto and Shohei Ohtani. If asked about their performance, you'd probably say that they lived up to and even exceeded the hype. If asked about their future, you'd probably say that if they stay healthy, the sky's the limit. For what it's worth, the respective BABIPs for that trio were .352, .338 and .350 yet no one bats an eye at those.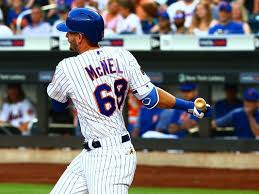 But when we examine Jeff McNeil, we say he exceeded all expectations and if we ask about his future, we wonder what will happen next year when he doesn't run a .359 BABIP. The former is certainly true and the latter is a prudent point of view. But how much is the second half of that sentence shaped by the first half? Do fans in Atlanta, Washington and Anaheim fret about a sophomore slump from their rookies?
That trio all brings more power to the table than McNeil does. But the Met brings other things that surpass our heralded rookies. McNeil made much better contact, striking out fewer than half the times on a rate basis compared to the NL guys and nearly one-third as much as Ohtani. He was a far superior baserunner and because he's an infielder, he brings more defensive value. With that last point in mind, let's compare McNeil to other rookies this century who played the same position and see what we find.
Setting the minimum level of PA to 200, here's where McNeil rates in various categories out of the 124 people who qualified for our list:
AVG – .329 (2nd)
OBP – .381 (4th)
SLG – .471 (11th)
K% – 9.7 (8th)
BB% – 5.6 (T 77th)
BABIP – .359 (6th)
wOBA – .368 (5th)
wRC+ – 137 (3rd)
BsR – 5.5 (T 3rd)
fWAR – 2.7 (T 9th)
There are 11 people from our list who posted a .350 or better BABIP. In addition to McNeil, Tampa's Joey Wendle also did it in 2018. So, let's look at the other nine guys and see what they've done for an encore after their big rookie season. The numbers in parentheses are rookie year, rookie BABIP and rookie fWAR. All WAR numbers will come from FanGraphs.
Trea Turner (2016, .388, 3.3) – Slowed by injuries in 2017, Turner put up a .329 BABIP and a 2.8 WAR in his sophomore season. Last year he played in all 162 games and had a .314 BABIP and a 4.8 WAR.
Esteban German (2006, .388, 1.6) – The following season he had a .307 BABIP and a 1.1 WAR in 405 PA. He only received 321 PA over four partial seasons in the majors after that.
Scooter Gennett (2013, .380, 2.0) – He followed up with .321 and 1.7 marks in 2014 and struggled mightily the next two seasons. But Gennett has had a major revival the past two years. In 2018, he had a .358 BABIP and a 4.5 WAR.
Enrique Hernandez (2015, .364, 1.5) – Suffered a mighty drop in BABIP, falling to a .234 mark and replacement level in 2016. He rebounded to a 1.3 WAR in 2017 and this past season he had a 3.3 WAR, despite a .266 BABIP.
Whit Merrifield (2016, .361, 1.4) – In 2017, he fell to a .308 BABIP but with roughly 300 extra PA he posted a 2.9 WAR. This past season, Merrifield rebounded to a .352 BABIP and recorded a 5.2 WAR.
Martin Prado (2008, .357, 1.1) – In 2009, he had a .331 BABIP and a 2.6 WAR, getting a nice bump thanks to the extra 248 PA. From 2010-2016, he amassed 19.7 WAR. Has been slowed by injuries the past two seasons.
Donovan Solano (2012, .357, 1.3) – Solano managed just a .287 BABIP the following season and with his BsR numbers also taking a big tumble, managed just a 0.2 WAR. He rebounded some in both categories in 2014, but only enough for a 0.8 WAR. He recorded just 117 PA in the majors after that.
DJ LeMahieu (2012, .353, 0.4) – He fell to a .328 BABIP and a 0.3 WAR the following year and turned in a similar season again in 2014. But the next three years, he once again posted ultra-high BABIPs and amassed 8.2 WAR in that time frame, mostly on the strength of a 4.4 WAR in 2016. Last year his BABIP fell to a .298 mark but he was able to post a 2.0 WAR thanks to the finest defensive season of his career.
Jemile Weeks (2011, .350, 1.8) – His BABIP fell to .256 the following season, when he posted a (-.02) WAR. He posted just 120 PA in the majors after that.
Well, that's certainly a mixed bag. If you want to be bullish on McNeil, you can point to Turner, Gennett, Merrifield and Prado. But if you want to be bearish, you can cite German, Solano and Weeks. But is there something else we can add that might bring more clarity to the issue? Let's take these nine guys and add back in McNeil and Wendle.
| Name | Age | PA | BsR | Def | WAR |
| --- | --- | --- | --- | --- | --- |
| Turner | 23 | 324 | 5.6 | (-1.8) | 3.3 |
| German | 28 | 331 | (-1.3) | (-9.3) | 1.6 |
| Gennett | 23 | 230 | 2.9 | 1.2 | 2.0 |
| Hernandez | 23 | 218 | (-1.3) | 0.9 | 1.5 |
| Merrifield | 27 | 332 | 3.6 | 2.9 | 1.4 |
| McNeil | 26 | 248 | 5.5 | 1.9 | 2.7 |
| Prado | 24 | 254 | (0.7) | (-3.6) | 1.1 |
| Solano | 24 | 316 | 2.7 | 0.8 | 1.3 |
| LeMahieu | 23 | 247 | (-1.6) | 3.3 | 0.4 |
| Wendle | 28 | 545 | 3.0 | 4.9 | 3.7 |
| Weeks | 24 | 437 | 0.2 | (-2.8) | 1.8 |
Here's where McNeil ranked in each category:
Age – 8th
PA – 8th
BsR – 2nd
Def – 4th
WAR – 3rd
Most of the players on this list were in either their age 23 or age 24 season. Interestingly the two guys who made the list in 2018 were older than that. The only two other players older than 24 were German and Merrifield, one bust and one success story, so not a lot to go by examining age.
None of the players amassed a full season of PA. The pre 2018 leader was Weeks, who turned out to be a bust. There's a dropoff to the next group, which had four players amass between 316 and 332 PA. That had two busts and two successes. The ones at McNeil's level were more of the success side but it's hard to put a lot of faith in that.
McNeil is neck and neck with Turner as the best baserunner of the group. The pre 2018 baserunners who were noticeably above average were mostly in the success group. Solano was the only good baserunner to be among the busts. Weeks was barely in positive numbers. Only Prado was a poor baserunner from our success group.
The Def category is another mixed bag. LeMahieu and Whittfield were the best of the pre-2018 bunch while German, Prado and Weeks were the worst.
It's hard to look at these extra categories and see any home run for future forecasting. The seemingly best addition was the BsR category, which if indicative of future success would bode well for both McNeil and Wendle.
Let's try one more thing. Much like mathematically you shouldn't add OBP and SLG but we do it anyway to get an easy answer, let's add BsR and Def and see what turns up. Here are the pre-2018 leaders among our high-performing BABIP group:
6.5 – Merrifield
4.1 – Gennett
3.8 – Turner
3.5 – Solano
1.7 – LeMahieu
(-0.4) – Hernandez
(-2.6) – Weeks
(-4.3) – Prado
(-10.6) – German
Maybe we have something here. The top three guys are our successes and two of the bottom three guys are our busts. McNeil (7.4) and Wendle (7.9) would hold the top two spots on this made-up list.
When we look at comps, the hope is that we find a strong conclusion, regardless of which direction it's ultimately in. When examining the comps of rookie second basemen with ultra-high BABIPs, we simply don't get that. But the fact that there are multiple success stories in our small sample is still encouraging for looking ahead with McNeil.
Perhaps the best comp of these nine pre-2018 guys is Merrifield. Both he and McNeil were older than the majority of players in our sample and they both posted positive numbers in BsR and Def. Merrifield took a hit in BABIP in his sophomore season but still put up a strong 2.9 fWAR thanks to a full season of playing time. And in his third year, Merrifield put up a terrific 5.2 fWAR. Let's hope McNeil can follow a similar path.