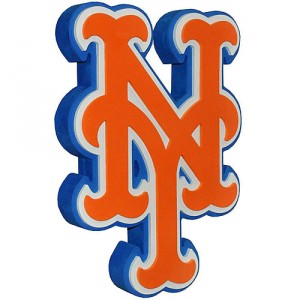 This weekend, Mets ownership (with a whisper in the ear from their three not-GMs) will hand the illusion of team reigns over to Wilfred Brimley, Jerry Maguire or Sheldon from the Big Bang Theory. Whichever partially qualified B-list candidate gets the job, let's hope they're watching the World Series to see just how much separates the pennant-winning Dodgers and Red Sox from this iteration of the Mets.
Obviously, there's a talent gap and a payroll gap, but, there's also a different line of thinking, a different set of priorities and a different organizational focus. The Dodgers have incredible depth and are able to overcome the types of injuries that have crippled the Mets these past few years. A $200 million dollar payroll certainly helps, but so does drafting the right players, being aggressive with international signings, knowing how to nurture talent and how to spot diamonds in the rough like Max Muncy and Justin Turner. One team's trash can be another team's treasure, but the Mets don't seem to have an eye for this.
The Dodgers seemingly have had an endless pipeline of young talent graduating through their minor leagues. They have the luxury of letting future Hall of Famer Clayton Kershaw walk away and reallocating his massive salary (though they likely won't) because they have young studs like Walker Buehler and Julio Urias stepping into the rotation. The new Mets GM might think it wise to exchange one of our big arms for a bushel of prospects, but imagine the nose dive this team would take in the standings and in attendance if we replaced Jacob deGrom with Corey Oswalt. When one of their best young players, shortstop Corey Seager went down with a season ending injury, the Dodgers simply moved the dynamic Chris Taylor over from the outfield until they could trade for Manny Machado. Okay, the second part may be out of reach in Queens, but what would the Mets have done had Amed Rosario gone down this summer? Probably stuck the washed-up Jose Reyes over there and called up an all-glove, no bat marginal prospect like Luis Guillorme to take the roster spot.
This is a recurring issue with this Mets franchise. We always seem to have hitters who can't field and fielders who can't hit. Our talent evaluation needs a major overhaul, as does our player development. Too many times we've brought up players from AAA who look lost or over-matched in the big leagues. Time and again, the Dodgers, Red Sox and other playoff teams bring up prospects who hit the ground running and ignite the team. Yes, we may have hit one with Jeff McNeil, but the early returns on Dominic Smith and many others leave a lot to be desired.
The Red Sox spend a lot of money, sure, but they also built their team the same way the Cubs did, by drafting and developing athletic hitter/fielders (Mookie Betts, Xander Bogaerts, Andrew Benetendi, Jackie Bradley, Jr., Rafael Devers, et al) and using free agency and trades to build a pitching staff. The Mets have tried the opposite approach and maybe it will still work, but this team needs to learn how to spot more Michael Confortos and fewer Gavin Cecchinis.
The Red Sox lineup, bolstered by the free agent addition of slugger J.D. Martinez, can score at will and in bunches. They can make the best pitchers look bad. The Mets, alternatively, can make journeymen and last-minute injury replacements look like Warren Spahn. An offense built around waiting for a home run only works when the team is stacked with power hitters in their prime – like the Yankees. Otherwise, runs are scored efficiently and consistently by lineups that feature patient hitters who don't swing at garbage, fleet footed players who can take an extra base, and contact hitters who don't strike out 200 times to negate their 30 home runs.
The Red Sox manufacture runs with speed the way few teams do these days. Speed keeps pitchers off balance. It capitalizes on opponent weaknesses like noodle-armed catchers and outfielders, and pitchers with slow deliveries. The league will start to remember how valuable speed is. Maybe sabermetrics doesn't support it enough yet, but it will come back and the Mets need to get on board. We need more Rosarios and fewer Jay Bruces. To get this franchise back to winning, our new GM needs to improve our team speed and pitch selection like the Red Sox, our roster depth like the Dodgers and, most importantly, our talent evaluation, so that, like both World Series teams, we can field a competitive team of complete players.