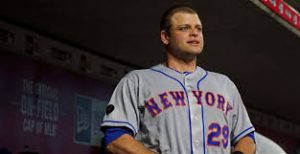 The Mets have significantly upgraded their catching corps this offseason via the signing of Wilson Ramos. The backup catcher slot, however, is still up in the air. Conventional wisdom has been to either keep Travis d'Arnaud and trade Kevin Plawecki, or vice-versa. Yet another possibility is to keep both and occasionally deploy d'Arnaud in either a corner outfield/infield role. There is another possible catching plan that involves trading trading both d'Arnaud and Plawecki and signing FA Devin Mesoraco.
Mesoraco was obtained by the Mets by trading Matt Harvey to the Reds last year, a trade necessitated by the season-ending injury to d'Arnaud. In 66 games for the Mets Mesoraco posted a slash line of .222/.306/.409, accompanied by 10 homers. Not very impressive, but it was better than Plawecki's .210/.315/.370 in 79 games.
In the past Mesoraco has been a pretty good defensive catcher, but his stats did fall off last season. His caught stealing rate was 21% in 2018, but of course several Mets pitchers are not good at holding runners on.
Looking at the season Mesoraco had for the Mets last year, he started off pretty well, then he hit a long bad patch, followed by an injury to his neck and back that sidelined him starting in late August. Mesoraco returned toward the end of September, and suddenly tore the cover off the ball. In the five games he played in September and October, his slash line was .455/.500/.909.
Now it could be that late season production was just a fluke in a small sample. It could mean, however, that the late season injury had bothered him for awhile and that he played through it, affecting his offense and defense adversely. The injury was reported to be neck and back stiffness, treated with rest and some shots.
No matter what Mesoraco is not going to duplicate anywhere near that late season line over a season, but if it was the injury that hindered him for much of the year, and if the medical regimen has improved it, then Mesoraco could be a very valuable backup catcher for some team. The Mets should have a good handle on his medical status from when he was on the team.
Mesoraco does have a good baseball pedigree in that he was a first round selection of the Reds in 2007. His best season was 2014, when he made the All-Star team. Mesoraco will turn 31 toward the mid part of next year, so he is no youngster. However, he will not command a big salary, and the Mets conceivably could sign him for a reasonable one or two year contract. That would then give them the chance to trade Plawecki and d'Arnaud, perhaps to pick up some additional bullpen help.
One other point to consider. During his time with the Mets last year, Mesoraco often caught Jacob deGrom. It was reported that deGrom likes his game calling and is comfortable with Mesoraco behind the plate. I'm sure most every Met fan, myself included, would think it would be a good thing for deGrom to be as comfortable as possible on the mound for the Mets.