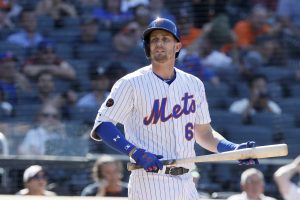 Last year, eight players drew votes in the NL Rookie of the Year voting, including Jeff McNeil, who was one of three players to draw a third place vote and receive one point in the balloting. Ronald Acuna Jr. won in a landslide, getting 27 of the 30 first-place votes. Juan Soto picked up two votes for first place and finished second overall and Walker Buehler grabbed the remaining first-place vote and finished in third place.
Five of the eight players to receive votes were hitters. Let's look at some numbers last year from that quintet, which also included Brian Anderson and Harrison Bader:
| Player | Age | fWAR | PA | BABIP |
| --- | --- | --- | --- | --- |
| Acuna | 20 | 3.7 | 487 | .352 |
| Soto | 19 | 3.7 | 494 | .338 |
| Anderson | 25 | 3.4 | 670 | .332 |
| Bader | 24 | 3.5 | 427 | .358 |
| McNeil | 26 | 2.7 | 248 | .359 |
McNeil stands out in a way with the numbers posted in that chart – and not in the way that you would want. He was the oldest player of the group, had the fewest PA and fWAR and had the highest BABIP of the batch. But two of those four were just barely the worst. He's only a year older than Anderson and his BABIP was just .001 higher than Bader's and .007 higher than Acuna's. And of course, playing time and fWAR are related. McNeil had the second-highest fWAR among all players last year with fewer than 345 PA, trailing only Adalberto Mondesi.
But it's hard not to notice how each club treated their rookies in the offseason. Acuna and Soto are batting cleanup for their team, with Soto getting a lucrative long-term deal. After splitting time between third base and the outfield in 2018, Anderson has settled in at the hot corner and found a home in the second spot in the lineup. And after a trade-deadline deal last season of Tommy Pham, Bader has become the Cardinals starting center fielder.
Meanwhile, after making 52 of his 53 starts at second base last year, the Mets went out and actively traded for a 36 year old 2B with five years and $120 million on his contract. And while it looked like maybe McNeil would move over to 3B, the club went out and signed a 35 year old to a two-year deal. The Mets told their rookie to grab an outfielder's glove and battle for playing time at a position he hadn't played since college.
Then the 35 year old offseason acquisition got hurt and McNeil found himself back in the mix at third base. Which may be a blessing, because his work in the outfield in both Spring Training and the regular season looked pretty bad, especially going back on balls. Be that as it may, the end result is that he's received fairly regular playing time here at the beginning of the season. Let's run the same chart again, this time for 2019 stats and eliminating age and incorporating walk and strikeout rates:
| Player | fWAR | PA | BABIP | K% | BB% |
| --- | --- | --- | --- | --- | --- |
| Acuna | 0.9 | 62 | .303 | 19.4 | 14.5 |
| Soto | 0.2 | 58 | .333 | 27.6 | 17.2 |
| Anderson | 0.1 | 59 | .306 | 25.4 | 11.9 |
| Bader | 0.3 | 50 | .217 | 28.0 | 16.0 |
| McNeil | 0.5 | 50 | .421 | 12.0 | 6.0 |
Once again McNeil stands out, this time for his super elevated BABIP. In the 21st Century, only two of the 2,861 batters with enough PA to qualify for the FanGraphs leaderboards finished the year with a .400 BABIP – 2002 Jose Hernandez with a .404 mark and 2000 Manny Ramirez with a .403 average in the category. It's extremely safe to say that McNeil won't finish with a BABIP remotely close to what he has now if he plays a full season.
But while a .300 BABIP is normal for the league it doesn't necessarily make it normal for the player. David Wright in 6,872 lifetime PA finished with a .339 BABIP and from 2005-2009 posted these rates: .340, .344, .356, .321 and .394 in that cursed year of '09. You may think it's sacrilegious to compare any Mets player to Wright but looking at all of MLB, we see 238 individual seasons where a player posted a BABIP of .350 or higher this century. Still only a fraction of our sample – a little over 8% – but at least we've gone from "virtually impossible" to "unlikely."
Unfortunately, BABIP is a stat that takes an incredibly long period of time to "stabilize," which is where it reaches a point where its "signal to noise" crosses the halfway point. Russell Carleton, before he joined the Mets front office, determined that you needed 820 balls in play for BABIP to reach an R of .7 – what we typically call the "stabilization" point, even if that term makes Mr. Carleton uneasy.
In his major league career to date, McNeil has a .369 BABIP but only 236 balls in play.
The only reasonable conclusion we can draw is that it's still too early to consider that McNeil has elite BABIP skills. But it's at least interesting that in the microscopic sample of 2019 that McNeil is continuing, even bettering, the mark he displayed in his small sample of 2018. Meanwhile, three of our other four rookies from last year have seen their BABIP drop off noticeably here in the early going, with only Soto, .338 in '18 compared to .333 today, duplicating his big season.
While acknowledging that we are dealing with a too small sample size, one other thing we can check is McNeil's xBABIP. The "x" stats are an attempt to use batted ball data to show what a player's stats "should" be given his profile, the expected numbers, or x. There are several different versions of xBABIP numbers out there. Here, let's use Mike Podhorzer's calculation, both because he's a friend and also because he has a handy-dandy calculator to use. From his career to date – and making some estimates because we're combining two different seasons, we get McNeil with an xBABIP of .347 compared to his actual .369 mark. So, no doubt that McNeil has been fortunate, but the hitter he's been to date has been one that should run an ultra-high BABIP.
Many people discounted McNeil last year because of his age and his elevated BABIP. But he's not that old and he's continuing to hit whenever given the chance. His ability to hit the ball to all fields and to make excellent contact are good signs that perhaps he can be one of those guys, like Wright, who consistently run a high BABIP. The only way we'll know for sure is to see him do it over a longer stretch of time. Here's hoping the Mets continue to give him that opportunity.