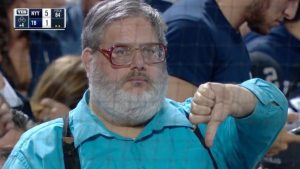 I'd like to think the Mets really wanted to end the first half on an up note. That they'd want to go out with their heads held high, ready to take on all comers in the second half; to make that second half more than garbage time. After all that had gone on this weekend — GM Brodie Van Waganen's furniture-tossing histrionics, manager Mickey Callaway's fiery ejection in the wake of Saturday's mini-beanball war and the subsequent rousing comeback victory over Philadelphia — that today's starter, Zack Wheeler, would come out smoking. I'd like to think that. After today's pitiful performance, I can't say for sure that they did want any of that at all.
Wheeler gave the Phillies a great boost right away. Leadoff man Scott Kingery hit the second pitch of the day, a broken-bat looper on which second baseman Robinson Cano tried and failed to make an over-the-shoulder basket catch. Jean Segura drove a ball to deep left that was run down by Dominic Smith. Bryce Harper then scaled a hard single to right center, Kingery crossing to third. Rhys Hoskins boomed a double to the right-center gap to bring him home. J. T. Realmuto followed with a mirror image of that, doubling to left center to score both Harper and Hoskins. Jay Bruce made it 4-0 with hard single to right. He'd advance to second on a terrible throw by Jeff McNeil on the play. That was all the Phils would need, as the Mets went out in order in the first, third, fourth and fifth — they garnered two walks in the second, to no avail. In fact, Philadelphia starter Aaron Nola took a no-hitter into the sixth inning. By that time, the lead had grown to 6-0. Relmuto walked leading off the sixth and Bruce continued the torture of his former mates, homering to center. That was it for Wheeler, having thrown five mainly desultory innings and probably lowering his trade value.
Nola got the first out in the sixth, but McNeil reached on an error by Hoskins and Pete Alonso finally got the Mets' first hit, clubbing his 30th home run of the season. No wonder he was an obvious choice for the Home Run Derby tomorrow night! In any case, that closed the Mets' offense for the inning, save a meaningless single by Cano. Bruce continued the toment in the eighth, homering again, this time to right center. For good measure, Hoskins homered in the top of the ninth. The Mets got that one back when Adeiny Hechavarria homered, pinch-hitting.
All-in-all, a fitting end to a miserable first half. Now we can enjoy Alonso, McNeil and Jacob deGrom in the All-Star game and rest assured the Mets absolutely will not lose until Friday, at the earliest.