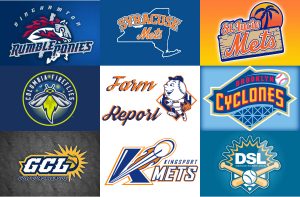 With Jared Kelenic and Justin Dunn playing in the All Star Futures game while Robinson Cano and Edwin Diaz look like a pair of boobie prizes it might make a Met fan feel rather grim about the future of their team.  Sure Anthony Kay looked good in AA but he's been rotten since his promotion to AAA.  Sure, Ali Sanchez has looked like a burgeoning star in Binghamton, but he's a defensive catcher and not a superstar who will make or break a team.
So before you despair about Adres Gimenez's terrible 2019 season, take a good long look at the more distant future of the New York Mets.  Ladies and Gentlemen, have you been watching Francisco Alvarez?
At the ripe old age of 17, the slugging catcher has hit his way into (what used to be) a rare mid-season promotion at the Rookie level.  He obliterated the GCL pitching to such a degree that the Mets have promoted him to the Advanced Rookie League in Kingsport.  Let's take a look at those GCL numbers:
| | | | | | | | | | |
| --- | --- | --- | --- | --- | --- | --- | --- | --- | --- |
| AB | H | 2B | 3B | HR | BB | K | BA | OPS | SLG |
| 26 | 12 | 4 | 0 | 2 | 4 | 4 | .462 | .548 | .846 |
The power and discipline he showed against players who averaged being 2-4 years his elder is truly impressive and now he's facing players who average 3-5 years older than his 17 years.  When the Mets spent their big money on Alvarez last season I didn't want to get too excited.  After all, a player signed at 16 has a very long way to go before the major league team will feel his impact, but it is possible the Mets may have a special case.
Using Ronny Mauricio as an example, it would be conceivable to have the Mets advance Alvarez past Brooklyn to Columbia to start his 2020 season.  This would put the catcher on pace to reach the majors by the time he was 20 or 21 years of age (which is exceptionally young for a catcher).  If the Mets of Queens get you down, check out the Mets of Kingsport.  There is a lot to love.
AA:
Binghamton Rumble Ponies
Andres Gimenez starts hitting? – Let's not get overly exuberant over 10 games of hitting .294 but it's better than he's been.
Ali Sanchez rewards me – After writing my article he had a mini slump but appears to have pulled out of it again.
David Peterson needs to do more – Nothing has been terrible but I can't imagine the Mets even promoting their firmer top pick to AAA in 2020.
Luis Carpio is handling AA – He hasn't wowed like he did in St. Lucie but for a mid-season promotion I'm more than impressed.
David Thompson isn't hitting enough – If Thompson was going to reach the majors he needed to be a star hitter in AA or AAA and he's just been okay.
A+:
St. Lucie Mets
Thomas Szapucki reaches Advanced A – Sure, he only pitched one third of an inning but it's good to see him moving back into the age bracket he belongs.
Jeremy Vasquez, what more can I say? – Should he be in AA? Yes. Have the Mets promoted him? No.
A:
Columbia Fireflies
Mark Vientos getting hot – He's hitting over .300 over his last 10 games and his OPS is back above .700 for the year.
Hayden Senger is the best catcher you haven't heard of – After a sold year for Kingsport and Brooklyn in 2018 he was a late addition to the Columbia lineup and has been a key to their offense since.
Wagner Lagrange is getting bigger hits – The power numbers he showed possible in Kingsport are beginning to shine through. I'm surprised that he's not with Port St. Lucie yet.
Simeon Woods Richardson has steadied – He's not looking like a future superstar but he's not in a death spiral either.
SS:
Brooklyn Cyclones
Joe Genord looks like a diamond in the rough – Not a pick that anyone paid attention to on draft day but Genord has hit like Peter Alonso since landing in Brooklyn.
R+:
Kingsport Mets
Brett Baty and Francisco Alvarez promoted – Mets promote two of their Top 10 prospects from the GCL to the APP in their first year.
R:
Gulf Coast Mets
Jordan Humphreys begins his rehab – Nothing to write home about but throwing a baseball is better than not throwing one.
Josh Wolf & Matthew Allan still not sighted – It's possible that we will not see any professional innings from the Mets two newest pitching prospects.
Endy Rodriguez is intriguing – The switch hitting catcher has 11 extra base hits in only 17 games and has tallied 4 more walks than strikeouts.
When Jose Peroza hits, he really hits – In 16 at bats he only has 4 hits but he's clubbed 1 double, 1 triple and 2 home runs.  You do the math.
DSL:
Mets 1 & 2
Freddy Valdez looks strong – Over the last 10 games he's hitting .318 with 5 multi hit games to his credit but it's the power that impresses most.  In 27 games Valdez has 10 doubles, a triple and 2 home runs.  Let's also not forget he's managed 3 stolen bases.
Carlos Dominguez is a quality swinger – We all know the difference between a thrower and a pitcher well Dominguez hits really well when he makes contact (.304/.426/.544 batting line doesn't lie) but he misses the ball a lot too (26 strikeouts in 23 games)
Federico Polanco is being developed at second – The infielder is being shifted off of short but this 5'10" infielder has also knocked 9 doubles, 5 triples and 5 stolen bases, along with a .345 batting average.
Omar De Los Santos worth noting – The outfielder might not get the hype of Valdez but he's having a very strong season as the centerpiece of the Mets 2 lineup.
I'd like to dedicate this article to my cousin, Howard Joshua Cohen, a lifelong Met fan who past away over the last few days. Howard was diagnosed with Cerebal Palsy as a young man but lived an amazing life competing in a Boccia league around the world. Howard was a testament to defying the odds and living a full life despite adversity.