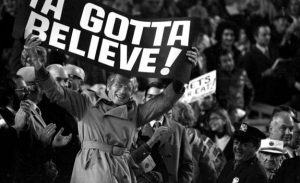 Against all odds and reason, the Mets are now within spitting distance of the second wild card with a real chance to fight for the playoffs. These are the same Mets who were left for dead at the All-Star break a month ago, after a brutal month of June all but sunk their season. But something clicked and the team has gone on a miraculous 19-6 since then, to climb back in the hunt.
They've been feasting on a weak schedule. They've been riding a healthy rotation that's hitting it's stride. And the bullpen and defense haven't been as disastrous as they were earlier in the season. Other NL teams went cold. Maybe Pete Alonso's rally cry of #LFGM got them going. Maybe it was the decision to not trade a starting pitcher and instead add one at the trade deadline. Maybe their new pitching coach has helped straighten out issues with some of the hurlers. Whatever the case is, this team has been more fun to root for since 2016.
The team now sits three games over .500 at 59-56 with a lot of baseball left to play – 47 games to be exact. Or, looking at it another way, 15 series. Of those 15, just five are against teams under .500 and eight are against NL East rivals. To "play meaningful games in September," the Mets will need to win more than half of their remaining games, nine of which are against the division-leading Braves. Fifteen games will be against the Phillies, Nationals and Cubs, who all currently sit between the Mets and a wild card spot. The Mets will also play three against likely playoff-bound Cleveland. Simply beating up on the bad teams – Kansas City, Arizona, Colorado, Cincinnati and Miami – might not be enough to land a wild card. It will likely take at least 87 wins, which requires the Mets go 28-19 the rest of the way.
It's not impossible. Especially with our rotation and the momentum we have going. Plus, we have more remaining games at home than on the road. But the remaining schedule makes it a real challenge. We may not have a chance to catch the Braves in the division, but we'd better stand up to them in three upcoming series if we're to have a shot at the post-season. And let's not forget, we're in fourth place. The Phillies and Nationals won't make it easy for us to leap frog them in the standings.
Savor this moment, fellow Mets fans. Wear your blue and orange hats and shirts proudly. For a few days, the sun is shining on us and we're happily licking at our ice cream cones. It could be gone my Monday as the Nationals are coming to town this weekend with their three top pitchers looking to knock our cones splat on the sidewalk.