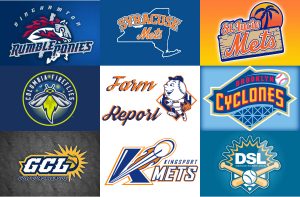 Each year I write up a Top 50 list but in most years I'm spending a few weeks scrambling to put my thoughts in order to make sure I am listing everyone who deserves to be listed and not listing anyone (cough cough… Tim Tebow) that shouldn't be.  In 2019 I did something different.  I kept a Top 50 list actively updated throughout the season and it wound up helping me to begin posting the list right away.  I hope everyone enjoys this year's list.
Every Met pundit has a style and looks for different things in their evaluations.  Working on the Top 50 in 2018 with Chris F and Gus taught me that some people put almost no value on the lower minors and others put too much.  It also taught me a lot about my own ranking style.  I do not weigh floor and ceiling equally.  My floor rating tends to have a lower impact on my overall numbers than the ceiling as I ultimately care more about a player's absolute potential than their immediacy to impact.  You'll, no doubt, see that as we go on.
The Bottom 10:
While I clearly value ceiling above floor you still see a healthy mix of players who are in the upper and lower minors but in this case you start to see some names that might not appear on any other Met Prospect List.  The younger players, those who come out of the DSL often flame out but there is, in some cases, enough reason to hope.  I'd take more pride in finding a future star than in successfully predicting the next backup corner infielder.
Federico Polanco, 2B (DSL/GCL) Starting in the DSL and earning a promotion to the GCL during the year is not that common. The second baseman who also spent some time at 3B and SS in 2019 managed 18 extra base hits and 10 stolen bases in 41 games for the DSL. Most impressively, his plate discipline is top notch and suggests that he will be able to get on base with some consistency.  I have him starting the year in Kingsport but the Mets might have him play as high as Columbia depending on what positions that they need players for.
Sebastian Espino, SS (APP) – MiLB.com lists Espino as a second baseman but the infielder played almost three times the innings at shortstop for the Kingsport Mets. He started off the season very well and cooled off greatly as the season went on. He seems likely headed to Brooklyn in 2020 where he will be challenged to hit in a league that eats power.  It would be good for the fleet footed player to learn to use his natural speed to steal some bases, something he has yet to figure out.
Ronny Rincones, RHP (DSL) – Starting pitchers under 6'0″ don't happen too often. It's what made Pedro Martinez so special. Of the pitchers in the DSL in 2019, Rincones clearly stood out as the top of his class with a low WHIP and K/9 above 9.0 for the year.  At 17, the Venezuelan starting pitcher is likely headed for his stateside debut in 2020 and should be seen in the GCL.  Since he is only 17 you might even see him get a few outings in the DSL (which starts earlier) to help stretch him out.
Adonis Uceta, RHP (EAS/INT) – Like Blackham (listed below) Uceta is an upper minors reliever who should become part of the Mets sometime in the 2020 season. Uceta's numbers in AA were very good but his few outings in AAA were God awful. Uceta looks to have the makings of a high-leverage reliever and could prove his way into that role but his time to do that will be 2020.  I can't see the Mets giving him too many chances before looking elsewhere.
Will Toffey, 3B (EAS) – When the Mets traded their closer (Jeurys Familia) in 2018 they got back a relief pitcher (Bobby Wahl) and a B-Rated third base prospect in Will Toffey. Toffey did well with the Mets in 2018 but saw a 130 point drop in OPS production in his second year of AA. Nothing about his 2019 should please Met fans as he now looks like someone who the Mets should no longer protect in the Rule V draft.
The Bottom 5:
A versatile infielder, an overshadowed catcher, two relievers and a former Top Prospect who is being threatened with expulsion from the Top 50.  The bottom five is a list has a few names that could move up this list for next year and two that have a strong likelihood of falling off the list entirely.  For a team like the Mets, whose farm system is rated poorly, I find that these prospects have some surprising prospect value to them.  While none of them have the best chance of a major league impact they have better chances than some players ranked in these positions in recent years.
Yoel Romero, Util (NYP/SAL/FSL) – A true utility player, Romero saw time in Advanced A, Low A and Short Season ball in 2019. During that time he played 3B, 2B, 1B, SS, LF and RF. The versatile fielder spent most of his year with Brooklyn where he hit in the middle of the order.  At 21 years of age he has some time to develop and should likely find himself playing a starting role for either Port St. Lucie or Columbia to start his 2020 season.  The fact he can play so many positions makes him an intriguing prospect as a future bench option.
Andres Regnault, C (APP) – With all the Francisco Alvarez hype, it's easy to forget a solid offensive performance from another catching prospect. The 20 year old catcher had a great year in Kingsport where he finished with an .817 OPS. He'd be a far better prospect if only he would learn to take more walks.  He has power and hits for contact but having an OBP only 36 points higher than his batting average will always make his numbers suffer.  Still plenty of time to work on it as he progresses.
Matt Blackham, RHP (INT) – The under-the-radar reliever who has, for no discernable reason, not been to the majors in 2019. Blackham has been one of the best relievers for the Mets upper minors, pitching 55.1 innings between AA and AAA. His K/9 and WHIP are both strong and it seems like he's ready to get his shot at the majors any second.  At 26 it'll be hard to ever call him a "prospect" again.
Jefferson Escorcha, LHP (APP) – It's rare to rank a relief pitcher in the Top 50 and rarer still to do so with a 19 year old lefty in Kingsport. Eschorcha stood out as a possible prospect in 2018 with a dazzling WHIP and K/9 between both of the DSL teams. His numbers were less crisp in the APP but still showed a good ability for the lefty to avoid giving free bases and/or hits.  He also threw quite a few multi-inning outings leading me to believe the Mets may switch him into the rotation for 2020 in Brooklyn.
Desmond Lindsay, OF (FSL) – Another year, another injury and another wasted season. I considered keeping Lindsay off of the Top 50 list entirely. The once promising outfielder can't seem to stay healthy or hit with any consistency during the brief stretches where he manages to actually play.  Drafted in the 2nd round of the 2015 draft he'll be 22 and will have never played above Advanced A in 2020.  I've left him on the list, mostly, to make people aware of how far his star has fallen.  I can't even bring myself to opine what a turnaround might look like.