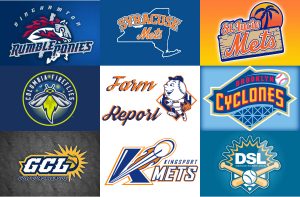 Prospects cannot help but be ranked and grouped into like tiers.  First Tier prospects are the elite players towards the Top of one's Top 10 or, on a very good farm, beyond that.  Second tier players look to have major league futures but are not in the same class regarding needing to protect them. Going lower you reach a third tier where players either lack the ceilings of a major league star or remain too far out to properly judge.  The further tier are the prospects that a team tracks but doesn't necessarily expect big things from.
As the Top 50 list continues from there we hit the best of what I'd call the fourth tier prospects.  These are the players that get tossed in blindly on deals.  Not necessarily those that a team "wants" to trade away but players who, if the target is in their sights, a team can pull the trigger on without thinking twice.  Here we see quite a few of the Mets later draft picks from the 2019 draft.  Those College Seniors who lacked the leverage needed to derail Brodie Van Wagenen's dreams of three first round picks.
The Worst of Tier 3:
A DSL player who exceeded expectations, a Low A starter who didn't live up to them, a AA reliever from an infamous crop of prospects and two second basemen who don't see powerful or fast enough to have legitimate MLB futures.  The Mets do not start their 3rd tier with a bang and some might question why some of these players appear here instead of some more promising players from the fourth tier.  Based upon the stats, scouting and draft history these players remain a bit more valuable to the Mets than those I've ranked lower.  Whether that's based upon their performance in 2019 or that of previous year.
Carlos Dominguez, OF (DSL) – Playing alongside a top prospect like Freddy Valdez it says something that Dominguez was able to distinguish himself well in 2019.  Sporting a .847 OPS between his time for the two DSL Met teams, Dominguez suffers from the Vicente Lupo effect.  That being said I have to admire an outfielder who steals 15 bases and knocks 24 extra base hits in a 59 game season.  Numbers made all the better from his ability to draw walks and not strike out and unseemly amount.  He would seem to have earned his way into stateside baseball and would be a likely candidate to play with Valdez and Adrian Hernandez for Kingsport in 2020.
Willy Taveras, RHP (SAL) – He began the year as one of the strongest pitchers for the Columbia Fireflies but his success began to taper out and eventually he had a few injury hiccups as well.  He ended the year pitching out of the bullpen and finished with an unsightly 5.14 ERA.  Much of this is fueled by a disastrous month of June where the pitcher suffered to the tune of 25 earned runs in 24 innings.  That being said, the Dominican pitcher had been good in his three previous seasons and there is plenty of hope he can right the ship with a solid season in Port St. Lucie.  Taveras has potential to swing into the second tier with a good year or out of the Top 50 with a bad one.  We'll need to wait and see.
Ryder Ryan, RHP (EAS) – Part of the Jay Bruce trade, Ryan has been a bit behind most of the Met relievers acquired in the 2017 trade deadline.  One can hope that his additional development will lead to more success.  Ryan spent the entire season pitching out of the bullpen for the Binghamton Rumble Ponies where he struck out 40 in 44.1 innings and held his WHIP to 1.26 for the year.  The .210 opponent batting average is a promising sign but his WHIP is a little high considering.  Ryan will need to learn more control to be a success as a middle reliever in the majors.  2020 will see him as one of the many possible call-up arms pitching for AAA Syracuse.
Carlos Cortes, 2B (FSL) – The 3rd round pick from the 2018 draft shows the difference in drafting between the Alderson and Van Wagenen eras.  Cortes was a solid positional pick whom the Mets thought might be a candidate to advance quickly, despite his size.  He was fairly easy to sign and the Mets were panned for selecting someone who likely profiled as a backup infielder.  Despite being only 5'7″, Cortes has power.  The 26 doubles, 3 trilples and 11 home runs seem incongruous with his smaller build but should give people hope that Cortes might have a bit more to his future than the major league bench.  He'll need to prove that in Binghamton in 2020.
Luke Ritter, 2B (NYP) – Another of the many college seniors the Mets drafted in the 4th-10th rounds of the 2019 draft.  Ritter stands out and reigns as the top ranked draftee from that group.  The Wichita State infielder was assigned to Brooklyn and became a fixture of the Cyclone lineup.  During 2019 he started 60 of his 68 games batting in the heart of the lineup (3rd, 4th or 5th) and managed a solid .722 OPS for the season.  He does a little bit of everything and is unlikely to stand out for power or speed as he progresses but he could still prove to be a valuable role player in the years to come.  I have him starting  2020 with the St. Lucie Mets as their starting second baseman and hitting 2nd.
The Bottom 15:
Besides the bevy of College Seniors we see a player who made his MLB debut in 2019.  The player who is missing from this list is the Mets 14th round pick who shows signs he may be on future iterations of this same list.  Kennie Taylor and Nogosek aside we see that the Mets did restock some viable talent with their College senior approach.  It remains to be seen if anyone drafted in rounds 4-10 will actually make an impact or even play at the major league level.  Deepest apologies to Mr. Taylor who wound up as #51 on this year's list.
Stephen Nogosek, RHP (EAS/INT) – The Mets got Nogosek alongside Gerson Bautista and Jamie Calahan from the Boston Redsox for Addison Reed during the 2018 firesale.  While he did not look great in his MLB debut, Nogosek's numbers in AAA are good enough to suggest that the 24 year old deserves another shot at the major league bullpen.  In 30.1 innings in AAA he managed a phenomenal 0.73 WHIP while striking out 30 in 30.1 innings.  Nothing about his minor league performance in 2019 suggests he will not make future appearances at the major league level.
Wilmer Reyes, SS (NYP) – There is a lot to like about Reyes' 2019 season.  The 21 year old shortstop (who also plays 3B, 2B, 1B and LF) managed a .791 OPS in Brooklyn which is not a hitter friendly league.  If there was a problem with Reyes' future it would best be described as roadblocks.  Reyes is among a crowded group of infield prospects breaking into full season ball.  With Mauricio, Newton, Vientos, Ritter, Romero and others looking for jobs in Columbia or Port St. Lucie it's going to be a tight field.  There was also a sense that Reyes is more of a "Swinger" than a "Hitter" but his results in 2019 were too good to be completely discounted.
Jake Mangum, OF (NYP) – New York really wanted Mangum.  He was drafted by the Yankees and Mets unsuccessfully in previous years and was the last prospect to sign of the Mets Top 10.  To be fair, Mangum doesn't seem to be much more than a future 4th or 5th outfielder but a center fielder who can play good defense and steal bases isn't something to sneer at.  While a higher OPS in his debut would have been ideal, his 17 stolen bases in 53 games safely show his value.
Scott Ota, OF (APP) – If it seems that Mets360 hasn't spent enough time talking about a lefty outfielder who managed a .875 OPS in his baseball debut, that's my fault.  It is hard to get overly excited by any 22 year old's success in a level of baseball meant for players under 21 years of age.  Had Ota had the same success in Brooklyn he'd be ranked in the third or even second tiers of this list.  He's shown great power and discipline in Kingsport but it will matter far more if the 5'11" outfielder can do that when he's up against age appropriate competition.  Let's see this success in Port St. Lucie in 2020 and call me back.
Nathan Jones, RHP (NYP) – The Mets 5th round pick only threw 13.2 innings for Brooklyn and his 6.59 ERA must make his inclusion look unseemly but the right handed starter's numbers were greatly hurt by a disastrous 0.2 inning outing on 8/29.  If not for this we'd be talking about Jones looking ready to begin his 2020 season in either Columbia or Port St. Lucie and how he has the chance to prove himself a diamond in the rough.  Without 8/29 he'd have a WHIP under 1.00 and a K/9 of 9.0, so we should all try and keep an open mind.