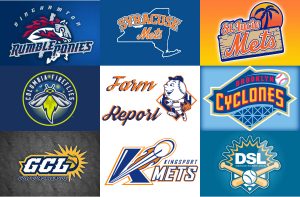 On Friday we reached the third tier prospects in the Met's system and today we will list out the ten remaining players who fall within this grouping.  It occured to me that a basic understanding of how my tiered system would be helpful to the readers.
Tier 1 – The Elite Prospects: To be traded only if the team is in dire need of improvement and you are trading for a young player who has some years left on the contract.  In this case I only rank the Top 7 prospects with the Mets as "Tier 1" though the whole Top 10 seem to have the right talent level.
Tier 2 – The Core Prospects: These are prospects that the team has some faith in.  The players that the scouts project as being impact players with the Mets in the next 1-5 years.  These are players who the team doesn't trade easily but will if it will get them into the post season or beyond.
Tier 3 – Legitimate Prospects: The players who seem to have proven they can make it to the majors but who, for one reason or another, don't have the ceilings to propel them into any sort of "Star" power.
Tier 4 – The Fringe Prospects: This group hasn't proven themselves or they have ceilings that seem a bit too low or unlikely.  Plenty of younger players graduate up from this list and plenty more fall completely off of it into the tier of player that we don't list in a Top 50 prospect list.
The Best of Tier 3
In this group of five players we see a pair of promising starting pitchers who seem to have hit bumps in the road, a young infielder who is going to be bumped from his position, a "hitting" catcher who never seems to quite hit enough and an international prospect who seems to only ever show glimpses of potential.
Tony Dibrell, RHP (FSL/EAS) – Being ranked 21st in an organization is not and should not be viewed as a bad thing but Dibrell was on track to be ranked much higher before he flamed out in AA. The Mets shifted him from relief to starting in 2018 and Dibrell looked very good in Columbia. Port St. Lucie is a much bigger challenge and if we were to lose faith in what he could be this would be where it would happen.  Instead, he managed  2.39 ERA and a 1.21 WHIP.  The negative from the first half of his year was the fall in his power numbers.  Dibrell had been a 9+ K/9 pitcher in Columbia, which seemed to suggest that he had "Ace" potential but his K/9 fell to 7.5 when he made the jump to Advanced A.  Then, he got a mid-season promotion to AA and it all seemed like it was too much for him.  From his second start in AA on his hits and walks against piled up and his ERA ballooned to a 9.31 in nine games.  Being that it came after a mid-season promotion we'll give him a pass but he looks like he'll need to repeat AA in 2020 for sure.
Gregory Guerrero, 2B (APP) – Once upon a time, the Mets spent a fairly decent amount of their international pool on signing Guerrero out of the Dominican Republic. After three lackluster seasons with the Mets it's fair to wonder if we can firmly affix the "Bust" label to his forehead and move on. In these three years the second baseman has proven to be a low batting average hitter who shows brief glimpses of more.  In 2019 he seemed to break out, starting the year with a torrid .911 OPS in June.  Then he fell back to earth and finished the season below .700 and looking overmatched once more.  At 20 the time for Guerrero to prove himself is now and another year like this will only see him fall into the fourth prospect tier or below.
Jordan Humphreys, RHP (GCL/FSL) – The Mets made us believe that Jordan Humphreys would be back in the 2019 season but when the smoke cleared, he had only played in two games and pitched two innings for the GCL Mets. Thanks to another lost injury year, we see Humphreys pay the price as the timeline for him reaching the majors becomes further condensed. It is everyone's hope that in 2020 the pitcher who broke out in 2017 will be back on the mound and showing us he was no fluke.  The odds, sadly, continue to mount against this happening.
Jaylen Palmer, 3B/SS (APP) – Most of the Tier 3 players have been older but Palmer breaks this mold as being too good for Tier 4 and not secure enough to rank within the Top 20. He joined the Mets in 2018 and played 25 successful games in the GCL where he managed a .808 OPS. The Mets moved Palmer onto the APP in 2019 and the 19 year old 3rd baseman seemed poised to move up the depth charts.  That was until the Mets first draft pick earned his own promotion from the GCL and ate into his playing time.  Thanks to this, the Mets wound up having Palmer play the majority of his games at shortstop, a position the 6'3″ young man is ill-suited to, at least long term.  In 2020 he has the talent to move directly to Columbia but is more likely trapped in Brooklyn by the depth charts.
Patrick Mazeika, C (EAS) – A catcher who hits 16 home runs in 116 games of AA is nothing to sneer at but the question of how much of a catcher Mazeika actually is, is a matter of contention. The 25 year old catcher has been coming up the Mets system for a few years and hit a major snag in 2018 when his offensive production took a nose dive in AA. His OPS for 2019 recovered by 48 points but people rightfully want more from Mazeika, who isn't a guarantee by any stretch.  With defensive options like Ali Sanchez (who is rated higher on this prospect list) above him, Mazeika needs to show that his bat can be a difference maker in the majors.  He will likely get to play alongside Sanchez again in 2020 and try to prove just that for the Syracuse Mets.
The Rest of Tier 3
The middle five of this group holds two relievers who could be pitching in the major leagues soon, a shortstop who is now an outfielder, a first baseman without enough power and an outfielder who projects as a bench player.  People get down on the Met's farm system but the fact that three players ranked 26-30 could be in the majors in 2020 is actually a testament to how much talent is still to come.
Jeremy Vasquez, 1B (FSL/EAS) – If you read Mets360 you'll have heard the name Jeremy Vasquez. The first baseman was one of the few consistent hitters for a terrible hitting Port St. Lucie ball club. It seemed there was nothing that he could do to earn his way up to Binghamton, though… if he had more power that would have helped.  After 125 games in Advanced A and a .737 OPS for the year he was able to play his final 12 games with Binghamton.  What Vasquez should be is a solid contact hitting first baseman who is good at recognizing pitches and who avoids striking out too much.  He didn't do that in his 12 games in Binghamton but he will assuredly get much more time to show us that in 2020.
Hansel Moreno, OF (SAL/FSL) – With the high number of shortstops in the lower levels of the Met system, the writing was on the wall for Moreno, who made the transition to the outfield in 2019. The former infielder played only three games in the infield in 2019 and those were all at second base. Now in Advanced A, it seems the Mets view Moreno as a center fielder who will also see some time in both left and right fields.  We also saw Moreno earn a promotion in the middle of the year to Port St. Lucie but we did not see the same level of hitting success once that happened.  The switch hitter still has physical gifts that give him something of a chance to reach the majors but the window for him to prove that physicality will translate into hits is closing.
Stephen Villines, RHP (EAS/INT) – One of the best reliever prospects in the organization, Villines played games for both Binghamton and Syracuse in 2019. The Mets demoted back to AA in June as it seemed that he might not have been ready to make the jump. One thing that seems to shine in his history through the minors is an ability to keep opposing hitters of the basepaths and that makes his AAA numbers seem to make a bit less sense.  Back in AA he maintained a WHIP right around 1.00 which is much more in line with the player we've seen him be since 2017.  In 2020 he'll get another shot at AAA but may even get a good long look through Spring Training to see if he could be of some immediate help to the major league team.
Quinn Brodey, OF (FSL/EAS) – The outfielder was likely not a third tier player on anyone's radar before the season but thanks to a successful mid-season promotion to Bingmhamton his future in the major leagues seems to be crystalizing into a legitimate possibility. Brodey played 53 games for Port St. Lucie and in that time managed a robust .770 OPS thanks to strong power and solid plate discipline. His Binghamton numbers took a hit but he still managed to knock a .690 OPS that was hurt by a difficult first month after his promotion.  Brodey might return to AA in 2020 but he seems to have found his footing there and could be knocking on the door as a 4th or 5th outfielder in Flushing before long.
Ryley Gilliam, RHP (FSL/EAS/INT) – The Met relief prospect rose through Advanced A and AA to finish the year with Syracuse. It was a nice accomplishment but Gilliam seemed a bit rushed based on his performances. In 10.2 innings with Port St. Lucie he put up the stats of a star reliever.  His K/9 was well above 9.0 and his WHIP was below 1.00 which is great for anyone's first taste of Advanced A.  After his promotion to Binghamton the numbers stayed pretty good. In 18.2 innings he still struck out a lot of people but his ERA and WHIP both began to creep upwards.  Then his 9.1 innings in Syracuse just look plain bad.  Nobody should expect the AAA numbers to be the end of the road, though.  Gilliam will hope to bounce back in 2020 as he could start the year with either AA or AAA.