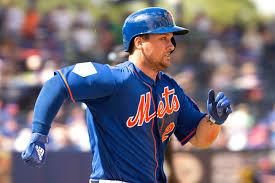 In the five-year period from 2014-2018, the Mets hit better on the road than they did at home, by an average off 55 points of OPS. In the just-concluded 2019 season, the Mets had a .766 OPS at home, compared to a .774 mark on the road. It wasn't a home-field advantage but since the hitters had been recently dealing with a significant home-field handicap, it was nice to see this level of production at Citi Field. For a point of comparison, in 2018, the team's home/road OPS split was .646/.752 – or a 106-point deficit.
Five of the top eight hitters in PA had a home OPS over .800 in 2019. No one enjoyed home cooking more than J.D. Davis, who posted a 1.078 OPS at Citi Field. That's the highest home OPS for a Met in Citi Field's 11-year history and just the third time a player with more than a handful of PA topped the 1.000 mark. Davis joined 2015 Lucas Duda (1.000) and 2017 Michael Conforto (also 1.000) in that quadruple-digit club.
Davis was perhaps the biggest surprise of the season for the Mets, in large part because of his home park performance. By contrast, his road OPS last year was .710 – a full 368 points lower than what he produced in Citi Field.
In general, hitting better or worse at home isn't really a repeatable skill. One year after posting that 1.000 home OPS, Conforto managed just a .682 mark in Citi Field. For his career in Citi Field, Conforto has an .852 OPS. Duda followed up his 1.000 OPS with a .790 mark the following year – and he has a lifetime .815 OPS at home, although the past few years he's had other home parks besides Citi Field.
On a league-wide basis, players usually hit a bit better at home than on the road. In 2019, the MLB home/road OPS split was .767/.749 – or 18 points. The previous season it was .738/.718, or 20 points. That's a bit less than what we saw previously. Over the past 10 years, the difference was 29 points. Duda's lifetime split is 63 points while Conforto's is 34 points. While both of these are above league average, they're nowhere close to what Davis experienced in 2019.
And sure, an extreme ballpark is likely to produce some extreme results. Players will typically have a home OPS much higher than their road OPS if they are on the Rockies. But is Citi Field anywhere near that extreme? According to Baseball-Reference, Coors Field has a multi-year batting factor of 118, while Citi Field has a 92 mark.
But with Davis, we're seeing a player go against the grain in what his ballpark typically produces. Citi Field has been somewhat of a pitcher's park and Davis hit like gangbusters there last season.
There's no reason to expect that Davis will put up a quadruple-digit home OPS in 2020. But is there any reason to expect he'll put up a .710 road OPS next season? Davis spent the entire year with the Mets and amassed 453 PA on the season. But his playing time increased in the second half of the year. In 102 road PA after the All-Star break, Davis had an .821 OPS, compared to a .618 road OPS in the first half.
We have to remember that we're dealing with a small sample to begin with and then we're slicing and dicing it into even smaller pieces. That second half road OPS looks encouraging. But it came with a .415 BABIP, so how much weight should we really give it?
And that comes back to the real reason to be concerned about Davis' 2019. It's not that he was so good at home and below-average on the road. It's that he put up his .895 OPS with a .355 BABIP. If he had enough PA to qualify for the batting title, that would have tied Christian Yelich for the fifth-best mark in MLB. And while Yelich runs a super-high BABIP year-in, year-out, you'll find many more guys who put up an inflated BABIP one year and then return to average or worse numbers immediately.
How many people were convinced that Mallex Smith was a star after his 2018 season where he put up a 3.5 fWAR, when he hit .296 and stole 40 bases? Well, Smith stole 46 bases last year. But he was the textbook definition of replacement player with his 0.0 fWAR. How did it all go so wrong for Smith? Instead of the .366 BABIP of 2018, this past season he had a .302 mark in the category.
Perhaps Davis' power makes you think he's more likely to continue his elevated BABIP. That's not a completely foolish idea. But Mookie Betts went from a .368 BABIP in 2018 to a .309 mark last year. He was still an incredibly valuable player, but his 6.6 fWAR was a noticeable drop from the previous season's 10.4 mark.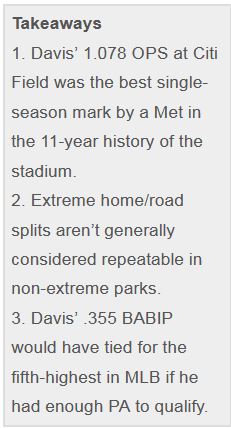 And then there was Lorenzo Cain. In 2018, he was seemingly every Mets fan's lament. The Mets needed a center fielder, Cain was a free agent and the Mets didn't give him a second glance. Cain went out and put up a 5.7 fWAR in 2018, powered by a .357 BABIP. Last year Cain put up a .301 BABIP and saw his fWAR drop to 1.5 in nearly the exact same level of playing time.
So, what happens when Davis' BABIP drops from the .355 mark he put up in 2019? Well, we're very likely to find out. Maybe Davis can still be a valuable player even with the drop. His playing time should go up and there's a chance he can improve his defense and baserunning from 2019. The latter two were well below average and all three kept him from posting an fWAR even higher than the 2.4 that he actually did.
A league-average player at a minimum salary is a very good thing. There's nothing wrong if Davis is installed as the club's left fielder next year and puts up a 2.0 fWAR over 600 PA. But there's nothing wrong if the Mets look to sell high on Davis and look for a league-average center fielder that will allow them to play Conforto and Brandon Nimmo in the corners. Davis gives the Mets options and those are good things to have.