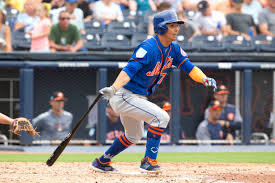 After posting a mediocre .695 OPS in a full season of AA baseball, many scouts and pundits soured on Andres Gimenez. For example, he dropped two ranks in my 2019 Top 50 Prospect List. He was still young (20 years old through most of 2019), he still showed promise (36 XBH and 28 SB) but his star had been dimmed in the esteem of those who talk about prospect players. Part of this trend was the emergence of Ronny Mauricio, who had a solid (if not spectacular) season in Low-A Columbia.
The Mets sent Gimenez and seven other players to the Arizona Fall League (AFL) to get some extra playing time. For those not familiar with the AFL, the league tends to get AA and AAA talent from around the league and is unique in that each team of players is comprised of prospects from multiple other teams. The Scottsdale Scorpions are made up of players from the Atlanta Braves, New York Mets, Philadelphia Phillies, San Francisco Giants and Toronto Blue Jays. The team may have finished a dismal 12-17 but a number of Mets prospects managed to impress the scouts in their time there.
Gimenez stood above the crowd. He netted himself the AFL batting title and managed an impressive .371/.413/.586 batting line while playing shortstop. During this short season he knocked nine extra base hits, including five doubles, two triples and two home runs. He only stole two bases during the brief AFL season but there were likely a number of contributing factors to keep that number from being higher. The only issue with this tremendous performance is that the sample size of 18 games, which is hardly enough to determine if a performance is purely a lucky streak or a bona fide breakthrough.
Looking back at the regular season, Gimenez suffered through a dismal month of June and still managed to finish with an OPS near the .700 range. The batting line in June: .203/.261/.283 served to weigh down the season long numbers. If you, instead, begin to follow his stats from July onward (including the AFL games) you wind up with a batting line of .276/.316/.443 and a .759 OPS. So, if you look at his last 74 games you are left with a far more optimistic impression on his outlook than you may have had before.
This is all part of the reason that I have been so adamantly opposed to the idea of trading Gimenez away this offseason. Other people in the sports world argue that he is blocked at his natural position by Amed Rosario, who made defensive strides in the second half of 2019. Viewing development projections, it is hard to say that Gimenez appears likely to out hit Rosario but he certainly appears to be more of a base stealing threat. In most calculations, Rosario remains the player with the much higher offensive upside. Though, there seems to be a larger issue.
People seem to be ignoring the lack of depth the Mets have at the shortstop position and the possibility of Rosario's defensive regression in 2020. If Gimenez were traded and Rosario got hurt, the Mets will be sending up Jed Lowrie (who can't really field the position), Luis Guillorme or Luis Carpio. Sure, the Mets could sign a player as a backup option but the team's bench is already stacked with overqualified and overpaid benchwarmers. With Gimenez having yet to play in AAA there is little to lose by having him start the year in Syracuse.
The final issue with trading him centers on the return that the Mets are likely to get. The team would be foolish to keep Gimenez off the table if they could net a superstar (in a position they actually needed) in a trade. The odds that another team is going to offer the Mets such a player in return for Gimenez are slim. Had the Mets looked to make a move in 2018 they might have been able to obtain someone like J.T. Realmuto (the Marlins had wanted more anyway) but a down season means that they are not going to be getting the same "Top Prospect" value for him anymore.
The strategy of selling on a young player coming off a disappointing year is not a good one. Consider that the Mets traded very little for J.D. Davis, who was once a well thought of hitting prospect. Instead, they should give Gimenez the time he needs in AAA to establish if his AFL success is more than a flash in the pan. If he doesn't succeed to the same degree the Mets will still benefit from the depth he provides and, if he does, the 2021 Mets could well thank themselves for holding onto him.
Other Mets in the AFL
Jordan Humphreys back on the mound – After a few lost seasons thanks to health, Humphreys disappointed by only managing to throw in two innings of GCL rehab time for 2019. He made up for this with 11.2 innings in the AFL where he was able to limit his base runners and find success against players with many more innings in the upper minors than himself. It's important to note this as Humphreys has not pitched above Advanced A and was facing plenty of AA and AAA talent this fall.
Ali Sanchez building a case – The defensive catcher was a solid, if not spectacular, force on the offensive side of play for the Scorpions. He finished the AFL season with a .656 OPS. Intriguing and odd, Sanchez did significantly worse against lefty pitchers in the AFL but this aberration has more to do with a scant 6 AB sample size.
Ryley Gilliam auditions for the bullpen – The Met farm hand made some waves as he was one of the sharper arms among Met relievers in 2019. In the AFL he produced a 10.9 K/9, a 1.07 WHIP and a 0.96 ERA over 7 games and 9.1 innings.
Blake Taylor puts his name on the radar – The only player whom the Mets sent to the AFL who wasn't on my Top 50 prospect countdown did exceptionally well for himself. The lefty threw 9 innings and managed to hold opponents to a 2.00 ERA thanks to a nearly flawless 0.78 WHIP.
David Peterson solid but not spectacular – The left-handed starter had a solid 3.46 ERA but his 2.00 WHIP illustrates how much of a tightrope he was forced to walk. He needs to allow fewer baserunners to make anything of himself as a major leaguer starter and the 8 walks in 13.0 innings does not do him any favors.