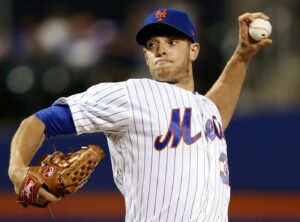 It's been established in everyone's mind that Steven Matz is a riddle, someone who's consistent only in his inconsistency. It seemed like more of the same for Matz in 2019. However, a look at the numbers show he was extremely consistent over five of the six months of the season. It was only the cursed month of June where things fell apart for him.
Through the end of May, Matz had a 3.55 ERA and the narrative went that new catcher Wilson Ramos was getting good work out of the two lefties on the staff – Matz and Jason Vargas. And then June happened.
In six starts that month, Matz managed to complete just 29.1 IP and he posted an unsightly 7.36 ERA. There were several culprits in this stretch, most notably the gopher ball, as he surrendered 8 HR during the month. He was so dreadful on the mound that he was moved to the bullpen in July, making two relief appearances before the All-Star break.
Reinserted into the rotation for the second half, Matz put up a 3.52 ERA in his final 14 games, a span of 79.1 IP. He gave up the same number of homers (9) after the break as he did in June, albeit in 50 more innings pitched. That still wasn't a great HR/IP ratio but it was a vast improvement. Matz also credited the work he did with former pitching coach Phil Regan, which helped him shave his BB/9 nearly two-thirds of a walk in the second half compared to the first.
So, will Matz be able to continue to throw strikes and keep the ball in the park in 2020? Let's check in and see what the computer models think:
ATC – 156 IP, 4.45 ERA, 137 Ks, 55 BB, 22 HR
Marcel – 154 IP, 4.38 ERA, 149 Ks, 54 BB, 26 HR
Steamer – 142 IP, 4.29 ERA, 140 Ks, 47 BB, 21 HR
THE BAT – 151 IP, 4.45 ERA, 137 Ks, 55 BB, 22 HR
ZiPS – 140 IP, 4.11 ERA, 136 Ks, 48 BB, 20 HR
As expected, there's pretty much a consensus among the projections on what Matz will deliver. ATC has the highest IP forecast while ZiPS sees a better ERA than the rest.
In the past, health has always been the biggest question mark surrounding Matz. But he's put up 30 starts in back-to-back seasons now. But no worries – a new wildcard has entered the equation. With the departure of Zack Wheeler, the Mets had a SP opening to fill. They went out and signed two starters and allegedly promised both they would start for the Mets. One of these new pitchers, Rick Porcello, seems to have jumped Matz in the pecking order. Scuttlebutt has it that Porcello is not being considered for a potential bullpen assignment, while Matz and Michael Wacha are. There's even been talk about using matchups to determine who will start between those two on any given fifth day.
That seems like a high-risk maneuver to me – up there with market timing and the rhythm method.
In a perfect world, the Mets would announce their five starters and ride those guys the entire season. Yet things are never perfect over 162 games. Perhaps an injury to a SP helps make this slight number crunch work. But outside of that, one has to assume that Matz will see time in the bullpen. The big question is: Will that be for a few appearances or will it be considerably more than that?
Here on the last day of February, no one knows the answer to that query. Which makes my prediction even more of a guess than normal. My expectation is that Matz' bullpen outings will be few and you'll be able to count them on the fingers of one hand. With that in mind, here's my forecast:
IP – 165
ERA – 3.50
Ks – 155
BB – 48
HR – 19
You'll have more credibility in the future if you chime in now with what you think Matz will do this year. Next, Michael Conforto goes under the forecast microscope.