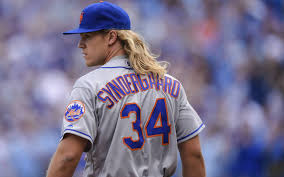 That the hard-throwing, weight lifting Noah Syndergaard finally succumbed to Tommy John surgery wasn't that big of a surprise. After all, the list of triple digit fastball throwers who haven't torn their ulnar collateral ligament is a lot shorter than the list of pitchers with that tell-tale ugly scar on the inside of their arm. Whether this is due to modern training regimens, strict pitch counts, hard sliders, or other factors is beside the point. The inevitable happened and now we're left to wonder how to overcome this loss, should the 2020 baseball season ever resume as scheduled. The injury raises several other questions as well.
Did the Mets organization see this coming?
It seems that way given that they'd made several attempts to trade Syndergaard over the past two years. There had been a lot of speculation, including from this blogger, that the Mets might be better served locking up Zack Wheeler and using Syndergaard as a valuable trade chip. Wheeler already has Tommy John surgery in the rear view and would likely come a little cheaper (though that remains to be seen in light of the monster contract Philadelphia gave him), plus the younger and more controllable Syndergaard was a more valuable in trade. Suspecting this injury was coming certainly would have helped instigate this push.
If the Mets thought this was inevitable, what was the main reason?
Is it really just that it seems to happen to all hard-throwing pitchers these days or was there more to the presumed speculation? Was the front office concerned about his weight lifting? Maybe they saw something in his mechanics that might make him more susceptible to an elbow injury? Or perhaps, more nefariously, their medical staff noted the hint of something during a physical exam? Purely conspiratorial speculation, but it's no different than astute fans on Twitter and Reddit connecting the dots between Brodie Van Wagenen, A.J. Hinch, Jessica Mendoza, Carlos Beltran and Jake Marisnick.
How long will Syndergaard be out of service?
Obviously, he won't step on a pitcher's mound in 2020, though he will still collect every penny of his $9.7 million salary, so don't feel too badly for him. If Syndergaard is able to have the surgery now, which is no given in this environment, it typically takes about 15 months for recovery which would put him into June 2021 and that's optimistic. Wheeler needed two years. Matt Harvey and many others came back relatively quickly only to suffer a second, more serious injury.
Will he ever be the same pitcher?
Optimistically, he could be better. One of the issues with Syndergaard is that he seems to forget that he can't just overpower Major Leaguers. This isn't AAA where a 100 mph will blow most hitters away. At the highest level, no fastball is too fast, especially when it's relatively flat. With a low-spin rate and an inability to pitch up in the zone, Syndergaard is surprisingly hittable for a pitcher with his power. If he loses a tick off his fastball, he might learn to rely on it less and get batters out with a better mix of secondary pitches and location.
Who will replace him in the rotation?
Well, at least we can knock off that stupid chatter about having six starters, as if that presented a problem. If and when this season starts, we can expect a rotation of Jacob deGrom, Marcus Stroman, Steven Matz, Rick Porcello, and Michael Wacha. That's not the best group of starters we've ever had in Queens, but it's potentially strong enough to get us into the playoffs, particularly with a powerful lineup providing run support.
Who is next in line?
This is where it gets a little thorny. Given the injury histories of Wacha and Matz, and the lack of available free agents at this moment, the Mets would be wise to stretch out either Seth Lugo or Robert Gsellman to be ready to jump into the rotation. One could argue Lugo is already their third best starter. Meanwhile, if Gsellman can recapture his slider/sinker combo with a better baseball (i.e., higher seams) this year, he can certainly be effective as a starter, as he showed a few years ago. David Peterson, who is slated to begin the year in Syracuse, showed a lot of promise in spring training. The AAA rotation was also expected to include Corey Oswalt, Stephen Gonsalves, Walker Lockett and Erasmo Ramirez. Any of those arms could wind up in Flushing at some point in the season.
Does this foil our chances at a 2020 playoff run?
No. Syndergaard is an important part of the team, but we can win without him. This is not deGrom we're talking about. Stroman is a very capable number two and the rest of the rotation is good enough. This looks to be the best offense we've had since 2006 and the bullpen, with a few bounce back years and the addition of Dellin Betances, should be at least good, if not great. At the mid-season trade deadline, whenever that turns out to be, the Mets could always look to make an addition, but for now, this rotation is good enough to begin the season with, and potentially good enough to lead us atop the NL East.