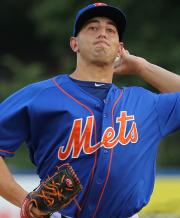 Last month the focus here was on Patrick Mazeika, a "hitting" catcher who is already past the age that most prospects have reached the majors. As great as his Spring Training numbers were, even I know that Mazeika will never impact a major league team in any meaningful way so instead of focusing on players who are looking at a couple seasons of riding the major league bench, let's look at some of the players the Mets have who might actually make a meaningful impact on the Mets franchise.
Starting Pitchers:
Jacob deGrom is going to be the Ace of the team for a number of additional years and Noah Syndergaard and Steven Matz are set to return in 2021 but the pitching staff of the New York Mets has significant issues ahead as players like Marcus Stroman and Rick Porcello leave the team. Assuming the Mets are going to look to bring in, at least, one starter through trade or free agency for the 2021 season, here are some players who have a shot at becoming part of the Starting Rotation solution.
Thomas Szapucki: Age 23 (June), Throws: Left, Assigned: AA
The "Diamond in the Rough" hero of the Mets organization returned to the mound in 2019 after spending most of 2017 and all of 2018 injured. While the pitcher has never completed over 65.0 innings in a single season there is more than a little reason to hope that he can make his way to the major league squad as a major contributor. The strongest indicators for his success come from his healthy K/9, K/BB ratio, solid WHIP and his surprisingly good stuff.
Much has been written in the past about how his actual velocity exceed scout expectations once he reached the minors and his splendid return to the mound in 2019 give a lot of hope. Assuming baseball comes back in May (as is suggested) it will allow Szapucki to complete more innings than he's ever managed in a single season. If he can continue his brief success in AA and even earn a promotion to AAA it would make him the frontrunner for a rotation spot in the 2021 season. It is unlikely that he will be able to perform to "Ace" levels of production but he does have a ceiling of performance as a #2/#3 rotational arm.
Kevin Smith: Age 22 (May), Throws: Left, Assigned: AA
Where people were looking for Szapucki to perform in 2019, nobody was really paying a ton of attention to this 7th round pick from 2018. Smith turned in a great season between his 85.2 innings in Advanced A and his 31.1 innings in AA. The lefty seems likely to earn his way onto the AAA squad by the end of 2020 and could even see time in the majors if the injury bug begins to rear its ugly head. His ceiling is still a little lower than others but he certainly could manage to project as a very good workhorse starter.
David Peterson: Age 24 (September), Throws: Left, Assigned: AAA
Why are there so many lefties at the upper levels of the Met system? I have no explanation. The former first round pick has not lived up to his scouting potential thus far but his 2019 numbers are also not as bad as many people make them out to be. His K/9 saw a rise to such a degree that he reached above a 9.0 for the first time in his minor league career and his 1.34 WHIP suggest that his 4.19 ERA might be a little higher than it ought. Peterson is already knocking at the door of the rotation and could see game time in 2020 if people are inured. His ceiling is closer to Kevin Smith's than Thomas Szapucki's but his pedigree could still come into play.
Harol Gonzalez: Age 25, Throws: Right, Assigned: AAA
The least heralded of the Met pitching prospects, all Gonzalez has ever done is gone out and toss quality innings across six minor league seasons. The starting pitcher is only six feet tall but his sparklingly low WHIP and walk rate make him an ideal back of rotation starter. I truly hope that he gets his chance to do that for the Mets and that he doesn't leave the team and do it for someone else.
Tommy Wilson: Age 23 (May), Throws: Right, Assigned: AA/AAA
If it is unlikely that a fifth round pick like Szapucki or a seventh round pick like Smith should become impact players, how unlikely is it to see a nineteenth round pick like Wilson on this list? The pitcher joined Smith in having a solid season across two levels and while he projects as someone who is likely more of a surplus pitcher there is enough in the 2019 season for Wilson to make people wonder if he could be a solid back of the rotation arm.
Bullpen:
The Mets have a number of arms on board through the 2021 season thanks to Seth Lugo, Edwin Diaz, Dellin Betances, Jeurys Familia, Brad Brach and Robert Gsellman. In fact, it would be fairly unlikely that without a general implosion of performance in the 2020 shortened season that the Mets will add a free agent reliever of much impact for next season. That means the only likely source of relief support is to come from the minors.
Franklyn Kilome: Age 24 (June), Throws: Right, Assigned: AA
If you were expecting to see Kilome in my list of starters, I apologize. The former Phillies prospect has always had explosive stuff but has also long been considered a candidate for the bullpen. Ultimately, I think that's where the Mets will look to use the imposing righty and, while I don't think he's going to be moved from the rotation in AA or AAA I would bet that the Mets only promote him into the bullpen if he reaches the majors in 2020. If you were looking at the internal prospect who most fits the profile as a future closer, this is your man and we will look to see if he can keep his K/9 high while keeping his BB/9 in check.
Steve Villines: Age 24 (July), Throws: Right, Assigned: AAA
One of the best WHIP performers I've seen come up through the organization, Villines did not enjoy his 16 games in AAA in 2019. He did have a fairly successful 45.0 innings in Binghamton so there is less need to fret. Of the relief arms the Mets did not bring up in 2021, Villines seems to be the most likely to stick in the majors thanks to a career minor league WHIP of 1.05 over three seasons.
Lineup:
The Mets have most of their 2020 lineup returning for the 2021 season with Robinson Cano, Wilson Ramos, Michael Conforto, Brandon Nimmo, J.D. Davis, Amed Rosario, Jeff McNeil, Pete Alonso and even Dominic Smith all set to return. That's good news as there aren't many players in the upper minors who are ready to contribute and that there could be a number more by 2022 when more holes develop. Still, there are a few names who could become relevant.
Andres Gimenez: Age 21 (September), Hits: Right, Assigned: AAA
The Mets have a shortstop already on the team but there is a viable future regular waiting in the wings in Gimenez. As we have said, if Amed Rosario were to ever sustain a lasting injury the Mets have their man in the wings but barring that how do the Mets deal with having a solid defensive and offensive option that doesn't fit onto the roster? I'll remind people that while his AA numbers for 2019 weren't exceptional (.695 OPS), his numbers were dramatically better in the Arizona Fall League and Spring Training. It is possible that the Mets will look to shift him into their eternal hole in centerfield or that a return of defensive struggles for Rosario could do the same to him. It is not the worst problem to have.
Ali Sanchez: Age 23, Hits: Right, Assigned: AAA
The defensive catcher has always seemed to hang around in the wings of prospect reviews but he really broke out with a supernaturally good few weeks in 2019. I have long said that if Sanchez could manage to be a .650-.700 OPS hitter that his defensive metrics might make him a starter but there is little reason to expect a player with a career .648 OPS in the minors to suddenly better that figure in the majors. He does seem like an heir to Tomas Nido as the backup option for Wilson Ramos but his 2020 season will dramatically affect his outlook.