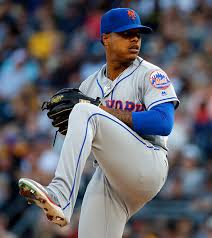 With the 2020 season up in the air, any Mets who were entering their walk years, will be suddenly facing free agency. This includes Yoenis Cespedes, Wilson Ramos, and several pitchers, most notably, Marcus Stroman.
After the Mets parted with two of their top pitching prospects – Anthony Kay and Simeon Woods Richardson – to land the former Blue Jays ace at last year's summer trade deadline, the expectation was that Stroman would serve as the mid-rotation replacement for Zack Wheeler, who was on the verge of free agency. Once Noah Syndergaard went down for Tommy John surgery, Stroman became the Mets number two starter heading into the 2020 season.
The former ace, who is in the prime of his career and seems excited to be in New York, was up to the challenge. In less than half a season as a Met last season, Stroman showed an uncanny ability to induce ground balls, as well as the best fielding off the mound we've seen since Ron Darling was our number two. Stroman, short in stature, but long on athletic prowess, possesses an interesting pitch repertoire that offers a nice change of pace in the Mets hard throwing rotation. He relies on a mix of sinkers, two-seamers, cutters, sliders and change-ups. He generally pitches low in the zone and pitches to contact, though he does rack up his share of strikeouts too.
Born and raised in New York and just short of 29, Stroman seemed to be poised to have a nice second act with the Mets, only he's very quickly going to hit free agency. The sacrifice in prospects was significant, but the Mets thought they were getting a season and a half of control at the time, which may not be the case now. Of course, the Mets could never have predicted that the 2020 season would be either shortened or canceled at the time of the trade, but that doesn't change the fact that they're going to have to make an important decision on the right hander sooner than later.
Simply letting him walk is probably not wise given that, in 2021, Syndergaard will be coming off a lost season to surgery and entering his last year of control, and rotation mates Rick Porcello and Michael Wacha will also be hitting free agency. Stroman was set to earn $12 million this year, his last arbitration eligible season. On the open market, a prime age pitcher with Stroman's pedigree is sure to command a $20 million per season, multi-year contract. Given the economic turn of events since Zack Wheeler cashed in on his deal, Stroman might command a bit less, but still will not come cheap given the dearth of quality, available starters each off-season.
Offering that type of deal would require a pretty big leap of faith on the part of Mets ownership who, fairly, won't have seen much of Stroman in New York. However, with so much uncertainty right now, from the 2020 season to Mets ownership change rumors, it remains a possibility.
If, on the other hand, the Mets front office decides to let Stroman walk, the Mets would be left with both a depleted farm system and a half empty rotation.