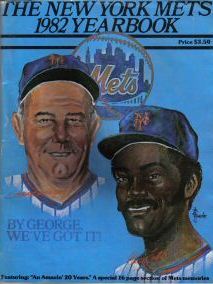 The 1986 team is now a cherished memory among New York Met fans.  Many players on that roster still rank high on any all-time favorite Mets list.  There was one player who was released though who caused some controversy prior to his departure.
 
That player was none other than George Foster; he wore number 15 and played left field.  By late July though, he was left out.
 
Foster came to the team with much ballyhoo at the start of the 1982 season.  Flyers went out; he was featured on the cover of the yearbook that season (along with George Bamberger).  He came to the Mets after starring for the Cincinnati Reds.  
 
He didn't hit a ton that year (13 HRs, 70 RBIs, and a .247 batting average).  But the next year, in 1983, Foster's performance improved (28 HRs, 90 RBIs, and a .241 batting average). He was likewise productive in both 1984 and 1985 but he was never the monster force the Mets thought they had acquired.
 
In 1986, his performance and playing time continued to diminish and by late July, he was a part-time player.  The Mets were winning and their team was solid.  They didn't need Foster to contribute offensively; they had other players who were performing. 
 
Then in early August, while the Mets were out-of-town on a road trip, the news broke that Foster was being released.  Prior to his release, Foster had told a newspaper:
 
"I'm not saying it's a racial thing. But that seems to be the case in sports these days. When a ball club can, they replace a George Foster or a Mookie Wilson with a more popular white player.
 
"I think the Mets would rather promote a Gary Carter or a Keith Hernandez to the fans so parents who want to can point to them as role models for their children, rather than a Darryl Strawberry or a Dwight Gooden or a George Foster."
 
At a subsequent team meeting, Foster told his teammates that his remarks were being taken out of context.  Davey Johnson, though, was uncomfortable with Foster keeping his spot on the roster and had already replaced him as a starter with rookie, Kevin Mitchell. Then, Frank Cashen announced he had placed Foster on waivers. 
 
Foster later clarified his remarks, saying:
 
"I never said race had anything to do with who plays – me or Dykstra or Mazzilli or Mitchell," he said. "I even prefaced my remarks by saying I didn't want it to be racial. How could it be construed as such when Kevin Mitchell isn't white?"
 
"I was talking from a business standpoint about promoting players, marketing players. You can take it from a business or economic standpoint: What product will sell to the public? What section of people will it attract to the ballpark?"
 
For his part, Johnson explained his actions as follows:
 
"Normally, I wouldn't comment on something a player is quoted as saying," Johnson said. "But this is an affront to me. He was alluding to my integrity as a baseball manager. I cannot have anybody on the club who questions my motives."
 
Johnson continued, "George is a fine man, a good man, and he's been a great ballplayer. But it hurts me. He put me into a corner. 
The only thing I can think of is he's had a great career and I've had the unfortunate task of sitting him down near the end of his career.
 
"In the four years he's been here, he's been streaky," Johnson added. "This year, with the emergence of Kevin Mitchell,
 I couldn't afford the luxury of waiting for George. My job is to put the best nine players out there."
 
Bill Robinson, the team's first base coach, said:
 
"I'm black, and I'm sensitive to racial issues, if I thought there was any racial overtone to anything on this club, I'd quit or I'd strongly object. I don't think this will offend the black players. Dwight Gooden is one of the country's most popular athletes. So is Darryl Strawberry, and Mookie Wilson is a favorite with the public."
 
Some of Foster's teammates spoke out on Foster's behalf.   Strawberry said:
 
"I'm disappointed the way the organization handled it. A guy who had a career like that deserved to wait till the end of
the season. Who knows, maybe I'm next."
 
Wilson said:
 
"I would have to say he was misquoted. George was one of the great ones."
 
In the end, Foster would sign with the Chicago White Sox and go onto play a handful of games for them before being released again. Foster's performance and demeanor never earned him the same level of appreciation individually that the 1986 team earned as a whole. Despite that, the team voted to award Foster a World Series ring and a three-quarters share of the championship money.  Foster was also on hand for the final game at Shea Stadium in 2008.