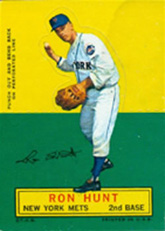 Could we put together a division made up of the different Mets eras? Who would be victorious? What team would finish in last? How competitive would the different eras be?
Let's start with developing the 25-man roster for the Mets teams prior to the Gil Hodges era that began in 1968.
The New York Mets from 1962 to 1967 were notorious for how bad they were, losing over 100 games in five of those first six years.  They only missed losing 100 games all six years by losing 95 in in 1966. There are many reasons for this, including lack of talent. However, if you look at the teams of that era, it wasn't that there was no talent, but more that the Mets' management couldn't build a roster in a way that made sense based on the talent they did locate. Such players were scattered on incomplete or in transitional rosters, which seemed to be the modus operandi of Mets management prior to Hodges taking over in 1968.
In building this roster, the concept was to build a team, not just the best 25 players. It was also to try to avoid having players on the roster that were traded for each other in an effort to show what a 1960's Mets roster could have been. No players who had a major impact in the Hodges-managed Mets were included either and that will be noted when discussing the specific positions.
Catcher:
Jesse Gonder 1964
Chris Cannizzaro 1964
Choo-Choo Coleman 1962
Catcher was a bit of a black hole for the Mets before Jerry Grote took over in 1966, but of those early Mets teams, the 1964 group was the best. Gonder was mostly an offensive catcher and led the league in passed balls in 1963, but he posted a nearly .700 OPS and threw out 43% of would be runners, higher than the league average of 40%. Cannizzaro had one of the best years of his career in 1964, posting a .739 OPS, throwing out 59% of would be baserunners and providing solid defense behind the plate. Coleman is one of those Mets that is famous for being a part of that hapless 1962 team, but he was actually pretty good that year. Coleman posted a .744 OPS in 1962 and was at least league average behind the plate. This group, by rotating, would have not only limited each players faults but provided a pretty solid backstop for the team. Why three catchers? In the 1960's, with smaller pitching staffs, having extra players that had limited positional versatility, like catchers, was pretty common, especially considering the toll the position took on the body.
First Base:
Frank Thomas 1962
Tim Harkness 1963
This is where a minor stretch had to be made to the 25 man roster, for several reasons. One was that Ed Kranepool wasn't eligible due to his participation in the Hodges era Mets. That severally limited options at first base since Kranepool was the everyday first baseman for the team starting in 1965 and was a regular in 1964. The other issue was Thomas. Thomas had to be on the roster as he had what was arguably the best Mets offensive season of the pre-Hodges era. Thomas hit 34 home runs in 1962, which was the Mets high water mark until Dave Kingman was on the roster in the mid-seventies. He also had an .824 OPS, one of the highest marks until the 1969 team. Thomas was awful in the field though and was tried at multiple positions in 1962, including a smattering of games at first base. He spent more time at that position in an injury plagued 1963 and in 1964 before being traded to the Phillies, where he was the starting first baseman in their playoff run down the stretch. Thomas wasn't a good first baseman, but that was part of the reason for the inclusion of Harkness, who was an extremely good defensive first baseman with a minimal bat.
Second Base:
Ron Hunt 1964
Hunt was one of the best players on those early Mets teams, making the all-star team twice in the four years he was with the club. In 1964, one of those all-star seasons, Hunt posted a .763 OPS, batted .303 and posted a 3.2 bWAR. Hunt wasn't a great defender, but he was solid and played hard every moment of every game.
Shortstop:
Roy McMillan 1965
Shortstop was a position that went throughout a lot of different players before Bud Harrelson took control in 1967, but the best of that early group was the veteran McMillan. McMillan had lost a step in the field but was still solid and wasn't a total loss at the plate in 1965. McMillan wasn't really a full-time player any more at age 35, but he was an intelligent veteran and future coach and manager. His experience and demeanor would have been valuable on this team and with the utility players that were picked for the roster, he may have gotten the necessary time off to enhance his value even more.
Third Base:
Charley Smith 1965
Smith is a forgotten player in early Mets lore. He's a classic example of the type of player the Mets looked for in that time period. Smith was a player just entering his prime when the Mets acquired him in 1964 from the White Sox, who had never reached the potential he was thought to have while playing in the Dodgers system prior to his debut in 1960. Smith was acquired for some flotsam and jetsam from the Mets 40-man roster in 1964 and proceeded to hit 20 home runs for the club while splitting time between shortstop and third base. After officially taking over the third base position in 1965, Smith hit 16 home runs in just 499 at bat's and was terrific defensively. He should have been the team's third baseman of the future entering 1966, his age 28 season, but instead was traded for an aging Ken Boyer, a common move by Mets management in those early years. Did Smith go on to have a spectacular career? No, but he was never given the same opportunity he had with the Mets in 1964 and 1965, so who knows how good he could have been.
Outfielders:
Richie Ashburn 1962
Joe Christopher 1964
Jim Hickman 1962
Johnny Lewis 1965
The Mets actually had very solid outfielders in the early days, but just couldn't put them all together on a single roster. Hickman was one of the players that had a ton of potential and didn't realize it until joining the Cubs later in the decade. 1962 was his best season as a Met though, where he looked like a building block player. He posted a .729 OPS and showed solid power, hitting 13 home runs in 392 at bats. He also played solid outfield defense, including over 80 games in center field where he was a positive defender according to baseball runs saved. Ashburn was terrific in limited time in 1962, hitting .306 with a massive .424 OBP and .817 OPS. He was also fantastic as a pinch hitter that year, hitting .419 in those situations with a .514 OBP. He really couldn't man center field any longer but handled right field well and would probably be used on this roster in a corner outfield position as a part time starter and regular pinch hitter. Christopher was another expansion draftee, like Hickman, who had never really gotten an opportunity on his home club, the Pirates. Christopher had a lot of talent, especially on the offensive end, and put that all together in 1964 when given an everyday spot in the lineup. Christopher hit .300 that year, with an 826 OPS, the highest mark a Met regular would post until Cleon Jones topped the 900 mark in his terrific 1969 season. Christopher was not a very disciplined outfielder usually relying on skill rather than any knowledge of positioning, but his best position was left field, where he probably would have been stationed on this roster. Lewis is another forgotten Met and a player the Mets had high hopes for when they traded one of the teams best pitchers, Tracy Stallard, for him prior to the beginning of the 1965 season. Lewis responded to the playing time in 1965, hitting 15 home runs, posting a .715 OPS and playing solid outfield defense, including being a plus defender in center field. On our roster, as a left-handed hitter, Lewis would have formed a nice platoon with Hickman in center field. This unit would have been strong offensively and pretty solid defensively as the positive defensive metrics of the other three players would have been able to hide Christopher and probably Thomas as well, when he spent a little time patrolling left field.
Utility
Felix Mantilla 1962
Bob Johnson 1967
Rod Kanehl 1962
Johnson had one of the greatest Mets seasons ever off the bench in 1967. He hit .348 with an .851 OPS a figure that didn't make it in the Mets record books due to the fact it was done in in only 246 plate appearances. He was a tremendous pinch hitter, hitting .387 in those situations, and would have formed a dynamic left right pinch-hitting duo with Ashburn on our roster. He was also acquired for cash and spun into a trade for Art Shamsky, a key member of the Hodges era teams, so his inclusion was a must on this roster. Mantilla was a player who got regular time on the 1962 Mets, something he had never really gotten while playing several years for the Braves before being taken in the expansion draft by the Mets. That time was spent all over the diamond defensively with a bat that produced a .729 OPS. He would be traded to the Red Sox after 1962 and have two more terrific offensive seasons in 1964 and 1965. On our roster, he would have been all over the field, probably primarily filling in at second base and short. Kanehl makes the roster as an extra player, pinch runner and jack of all trades defensively. He's also a legendary Met from those times and was actually pretty good as a fill in player in 1962. He was totally exposed when given a regular gig in the second half of 1962, but on this roster, he would have been able to sit right in as the guy who, functioning mostly as a pinch runner and defensive replacement, hit .259 before the all-star break in 1962.
Starting Pitchers:
Jack Fisher 1966
Al Jackson 1965
Dennis Ribant 1966
Carl Willey 1963
Starting pitching became what made the Mets contenders in the late 1960's and early seventies, but the team couldn't put together a cohesive starting staff in the era before that unit first came together with Hodges in 1968. The Mets did have solid seasons from several pitchers scattered throughout the first 6 years of the team's existence and the four seasons above were the best (obviously excluding Tom Seaver, who's tremendous rookie season in 1967 is omitted due to his importance on the Hodges-era teams). Fisher was an early workhorse for the team and posted a 3.68 ERA in 1966 while throwing 230 innings. Ribant was one of many young pitchers that had one good season for those early Mets and either flamed out or was traded away. In 1966, Ribant posted a 3.20 ERA and a 1.189 WHIP, all on his way to a terrific 3.2 bWAR in 188 innings of work. Jackson was arguably the Mets best starting pitcher of this era, throwing 205 innings in 1965 with a 3.43 FIP. Jackson, a ground ball pitcher, was notoriously undermined by the team's bad defense, and would have had a more solid unit to work with on this roster. The 32 year-old Willey posted arguably the Mets best pitching season of the early era in 1963, posting a 3.10 ERA and 4.3 bWAR that year in 183 innings of work, including four shutouts.
Swing Men:
Roger Craig 1963
Galen Cisco 1963
Both of these pitchers were classic examples of players put into roles that didn't totally suit them with those early Mets teams. Craig was a terrific pitcher, but one that was ideally suited for a swing man role. This is proven by terrific seasons he had in such a role with the Dodgers and Cardinals around his Mets tenure. With the Mets, he was a workhorse, throwing 469 innings over two seasons and 64 starts. On our roster, he would have been allowed to start less and been slotted into the role he played for the Dodgers in 1959 and the Cardinals in 1964. Cisco was another player that was a much better reliever than starter, as evidenced in 1963, when he posted a 3.10 ERA as a reliever and a 5.13 ERA as a starter.
Relief Pitchers:
Larry Bearnarth 1963
Jack Hamilton 1966
Dick Selma 1967
Don Shaw 1967
Relievers were much less of a prominent part of a roster in the 1960's, which is part of the reason this unit seems so minimal. However, all four of these guys brought something valuable as extra arms in a pitching staff that wasn't made of the Bob Gibson's of the world. Bearnarth was one of the longest tenured bullpen arms of the early Mets, throwing 319 innings in that role from 1963 to 1966. His best year was 1963 where he posted a 3.42 ERA over 126 innings of work, mostly in relief. Shaw was the classic lefty bullpen guy, posting a 2.98 ERA in 1967 over 51 innings. Hamilton, a flame throwing wild man, was the first Met to crack double digit saves, posting 13 such in 1967, a year he split between starting and relieving. Selma was another hard thrower and a relative bullpen ace in 1967, posting a 1.96 ERA in that role over 64 innings that year.
How would this team have fared? Better than one would think. It would have been pretty good offensively, with power, bench bats and really good hitters at most positions. It would have been about average defensively, but that is a far cry better than the bumbling reputation the Mets had in those years. The pitching staff is where it would lose out to other Mets eras and that's why it probably would still be at the bottom of the Mets barrel, but still much more competitive than what most people would probably think.