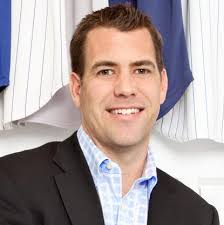 Mets fans are counting down the days until Steve Cohen receives approval from the other MLB owners and officially purchases the team from the Wilpon and Katz families. Cohen has already announced that Sandy Alderson will return to the club as the team's President and the assumption is that Brodie Van Wagenen will be replaced as GM. At the very least, Van Wagenen will be neutered and no longer have carte blanche to acquire his previous clients in trade.
So, let's take a look at what Jeff Wilpon's golfing buddy achieved in his tenure as Mets GM. This will be a complete record of his trades, along with big free agent signings, some other moves and even a quote or three. Not every transaction will be listed. If you want the details of every single NRI or options assignment, you can get those here.
2018
10/28/18 – Van Wagenen hired
11/2/18 – Rafael Montero declined assignment and became a free agent
11/30/18 – Non-tendered Wilmer Flores
12/3/18 – Traded Gerson Bautista, Jay Bruce, Justin Dunn, Jarred Kelenic, Anthony Swarzak to the Mariners for Robinson Cano, Edwin Diaz and cash
12/4/18 – Dismissing the idea that taking Cano was the cost of getting Diaz, Van Wagenen said, "The opportunity to go fill two primary needs was paramount in trying to get this deal done."
12/14/18 – Signed Jeurys Familia to a 3-year deal
12/17/18 – Signed Wilson Ramos to a 2-year deal
2019
1/5/19 – Traded Adam Hill, Felix Valerio and Bobby Wahl to the Brewers for Keon Broxton
1/6/19 – Traded Ross Adolph, Scott Manea and Luis Santana to the Astros for Cody Bohanek and J.D. Davis
1/6/19 – Traded Kevin Plawecki to the Indians for Sam Haggerty and Walker Lockett
1/10/19 – Signed Luis Avilan to an NRI
1/16/19 – Signed Jed Lowrie to a 2-year deal
1/28/19 – Signed Justin Wilson to a 2-year deal
2/7/19 – Signed Devin Mesoraco to an NRI
3/25/19 – Placed Mesoraco on restricted list for not reporting to the minors. Mesoraco retired and joined the coaching staff at the University of Pittsburgh.
3/26/19 – Signed Jacob deGrom to a five-year extension
4/28/19 – DFA Travis d'Arnaud
5/6/19 – Traded PTBNL (Neraldo Catalina) to the Rays for Wilmer Font
5/22/19 – Traded Broxton to the Orioles for international bonus slot money
6/15/19 – Purchased Brooks Pounders from the Indians
6/20/19 – Fired Dave Eiland and Chuck Hernandez
6/24/19 – Fined Mickey Callaway and Jason Vargas for interactions with a reporter
7/17/19 – Sold Font to the Blue Jays
7/28/19 – Traded Anthony Kay and Simeon Woods Richardson to the Blue Jays for Marcus Stroman
7/29/19 – Traded Vargas to the Phillies for Austin Bossart
8/8/19 – Signed Brad Brach as a free agent
8/9/19 – Signed Joe Panik as a free agent
10/3/19 – Fired Callaway
11/1/19 – Hired Carlos Beltran as manager
11/1/19 – Panik declined assignment and became a free agent
11/7/19 – Van Wagenen at the GM Meetings said about the on-going Beltran sign stealing case, "At this point, I don't see any reason why this is a Mets situation."
12/3/19 – Signed Chasen Shreve to a 1-year deal
12/5/19 – Traded Kenedy Corona and Blake Taylor to the Astros for Jake Marisnick
12/6/19 – Re-signed Brach to a 1-year deal with player option
12/13/19 – Signed Michael Wacha to a 1-year deal
12/16/19 – Traded Rick Porcello to a 1-year deal
12/24/19 – DFA Haggerty
12/24/19 – Signed Dellin Betances to a 1-year deal with player option
2020
1/16/20 – Mutually parted ways with Beltran
1/23/20 – Hired Luis Rojas as manager
1/28/20 – Signed Erasmo Ramirez to an NRI
2/14/20 – Van Wagenen on the deal that Zack Wheeler signed with the Phillies, "it became clear he was going to get more money than we were prepared to give him."
6/30/20 – Signed Jared Hughes to a 1-year deal
7/22/20 – Signed Brian Dozier as a free agent
8/2/20 – Traded Jordan Humphreys for Billy Hamilton
8/2/20 – Sold Tyler Bashlor to the Pirates
8/5/20 – Traded a PTBNL (Steve Villines) to the Rangers for Ariel Jurado
8/23/20 – Released Dozier
8/28/20 – DFA Lockett
8/28/20 – Claimed Guillermo Heredia off waivers from the Pirates
8/31/20 – Traded Kevin Smith and a PTBNL or cash to the Orioles for Miguel Castro
8/31/20 – Traded PTBNL to the Rangers for Robinson Chirinos and cash
8/31/20 – Traded PTBNL to the Rangers for Todd Frazier
9/4/20 – DFA Hamilton
Now let's take a look at the ones who got away.
Montero hooked on with the Rangers as a reliever and in 39 games has a 3.09 ERA and he picked up eight saves in 2020.
In 498 PA with the D-Backs and Giants, Flores has a 120 OPS+
Bruce put up a 101 OPS+ in 2019 and hit 6 HR in 96 ABs in an injury-plagued 2020
Dunn went 4-1 with a 98 ERA+ for the Mariners this year.
Kelenic was named the 11th-best prospect in the majors by FanGraphs following the 2019 season.
Swarzak was a league-average reliever for the Braves in 2019.
d'Arnaud put up a 108 OPS+ for the Rays in 2019 and a 138 OPS+ for the Braves in 2020
After posting a 4.25 ERA in Lo-A before the trade, Woods Richardson notched a 2.54 ERA in Hi-A in 2019.
Taylor had a 2.18 ERA out of the pen for the Astros and just won a playoff game.
Wheeler pitched 71 innings and had a 2.92 ERA with the Phillies.
Few were shedding tears over the departure of Montero and Flores but both players would have been useful the past two years and Van Wagenen gave them away for nothing. Ditto for Bruce and Swarzak in 2019.
No one would have blamed Van Wagenen if he non-tendered d'Arnaud. But he gave him a $3.5 million deal and then cut him in a fit of anger after 25 PA. Oh, and he also ticked off Mesoraco in the process, as he allegedly promised the catcher a role in the majors and when one became available when d'Arnaud started the year on the DL, he promoted Tomas Nido, instead. It was just a massive screw-up that hardly gets noticed or critiqued due to the high-profile gaffes of the Cano deal and the Beltran hiring/defending/parting.
The Stroman deal was a calculated risk which worked out about as poorly as possible. Acquired both for the stretch run in 2019 and as a Wheeler replacement in 2020 and in neither case did it work out the way Van Wagenen hoped. And if Woods Richardson reaches his ceiling, this will climb the list of bad moves by the agent turned GM.
The Mets needed a defensive center fielder because there was no one in the system to handle that role. The Marisnick deal seemed reasonable at the time and when healthy, Marisnick hit better/luckier than anyone had a right to expect. But he hardly played, the role could have been filled cheaper with either Hamilton or Juan Lagares – two players Van Wagenen later acquired – and Taylor sure would have helped this year. And is it pouring salt in the wound to suggest that Kelenic could have filled the backup CF role in a 60-game season?
As for the players he brought in, perhaps it's best to say as little as possible because most of them didn't really work out. Davis was outstanding in 2019 and then not so great this year. Cano and Diaz rebounded with solid 2020 campaigns. Wilson was a strong move. Shreve did well when used as a long reliever and Heredia filled in nicely down the stretch in 2020. Getting anything for Bashlor was a coup. Castro might be worthwhile.
But the list of positives doesn't come close to making up for the list of poor moves and tone deaf quotes. In an attempt to compete for the playoffs, the Mets set a franchise record for Opening Day payroll in 2019 and then shattered that mark in 2020 before the pandemic hit. And for that record expenditure, the Mets posted a combined 112-110 record and did not make the playoffs in either year. On top of that, Van Wagenen drained the farm system in the process. Sure, it's standard operating procedure for a new GM to deal the top prospects from the previous regime. But it was done with a reckless abandon that's quite shocking.
Of course, Van Wagenen also did a fine job with the two drafts that happened on his watch. We'll dive into that later in the offseason.