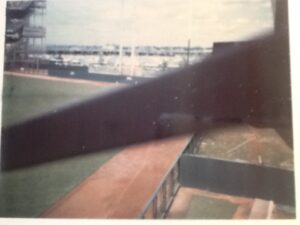 Back in 1970, the Mets were the darlings of New York and the sports world. They had just come off the miracle championship season. I was 13 and my father took me to see them play at Shea Stadium. Jerry Koosman was the starter.
I had gotten a Polaroid camera for Christmas that year and took it with me. We sat in the bleachers and I took a couple of photos. I recently discovered these in an old photo album. Since this was a Polaroid, the photos came right out of the camera and I was able to write on the back of them what was on the image.
The first one is a photo of the field with Koosman and Nolan Ryan doing some laps. Unfortunately, it's got that seating bar across it (I've gotten a little better at taking photographs since then). I am, however, struck by the openness and simplicity of the stadium though. No advertising, just the numbers on the outfield wall showing the dimensions (I still remember it was 396' in the power alleys and 410' to dead center).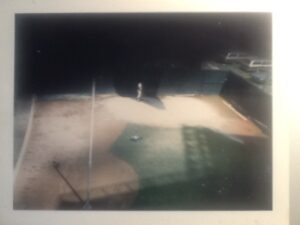 The second photo is looking down into the Mets bullpen. There is Koosman again; warming up. His jacket is off and he's getting ready for the game. Off to the right are some of the players' cars. You can see the economics of the game displayed. The team was young. They had kids. These players drove station wagons. The bullpen itself is, like the stadium itself, pretty sparse. It is very wide-open. About half dirt and half grass. Koosman is standing out in the open throwing and probably throwing to Joe Pignatano. There is a single light pole out there and nothing else.
These two photos are certainly not museum quality shots but I think they capture the simplicity of the game. Baseball is best seen through the eyes of a kid. When Peter Alonso says Tom Seaver smiled at us after hitting a game-winning home run against the Yankees, it bypasses statistics, and contracts, and revenue, and advertising and places itself within the game's timeline; within its consciousness.
Years from now, some fans will recall the Alonso moment and say I remember when he hit that home run the day we found out that Seaver had passed away. When I look at that photo of Koosman, I can recall when I was just a kid looking down on a hero getting ready for the game. I don't recall who won and that doesn't really matter too much because from a kid's perspective, it isn't really important.