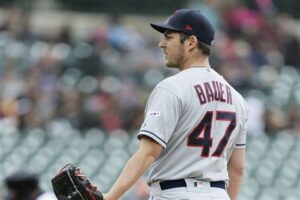 The Mets starting rotation needs to be upgraded and fortified for the 2021 season. The 2020 rotation figured to be a strong point before last season, then the combination of Zack Wheeler departing for free agency, Noah Syndergaard tearing up his elbow, and Marcus Stroman sitting out the season led to serious underperformance in aggregate for the 2020 starters. One pitcher the Mets could target is Trevor Bauer, arguably the gem of free agent pitching class this year.
Bauer was mostly a middle of the rotation pitcher for his first few years in the league, then in 2018 he broke out with a big season in which he finished 6th in the AL Cy Young vote. He might have finished higher had not his season been shortened by a line shot that struck his leg and fractured it. His 2019 was not as good, but that leg injury might have slowed him down some at the start of the year.
His 2020 season was impeccable. Pitching for Cincinnati in the abbreviated schedule, he racked up a 5-4 record in 73 IP. His ERA was 1.73 and his FIP figure was 2.44. HIs WHIP was 0.79, and hitters batted only .159 against him.
Some may say his competition was not the strongest, but his grouping of NL Central and AL Central divisions finished at exactly .500, as did the other groupings since all games were in the groupings all season.
Bauer throws a variety of pitches, including fastballs, sinking fastballs, cutters, sliders, changeups and splitters. According to FanGraphs his average fastball velocity was 93.8 in 2020. That's not Jacob deGrom fast, but combined with his command and assortment of secondary pitches, he put up a dominant year. He's a good candidate to win this year's NL Cy Young, scheduled to be announced on November 11.
Bauer has gone against the grain with his belief that he might be even more effective if he pitched on three days' rest instead of the standard four days. It might be possible to occasionally do this with the Mets, meaning a few less starts for the number five pitcher on the staff. Unless the Mets radically improve their SP depth, that would be a good thing.
Aside from his pitching ability, some have questioned his intangibles. On the very pages of this site, phrases like "too much baggage" and "pain in the ass" have been tossed about by commenters and authors. Bauer is intelligent (4.86 GPA in high school, graduated a year early) and opinionated. Some of his actions and declarations have rubbed people the wrong way.
He revealed his dating parameters, which include no long term relationships and no social media posts about him. In addition, he has said "I sleep with other people, I'm going to continue to sleep with other people." Likely many other ballplayers follow a similar approach, but they don't broadcast it. Bauer is upfront with his dating partners about his lack of interest in an exclusive relationship.
Some teammates and coaches don't like him for his penchant for having his own workout routine, but it seems to work for him. He had a notable clash with pitching coach Mickey Callaway when they both toiled for the Cleveland Indians, over this issue. Other teammates, notably several other pitchers on the Indians, said Bauer helped them with their mechanics. But they all said the same thing, that Bauer was willing to help, but he had to be approached first.
Bauer identifies himself as a socially liberal free market capitalist, and such beliefs are likely to offend a small segment of the population. He was also quoted as saying "Climate changed before humans and will change after." The Mets have employed other players with non-mainstream beliefs, including Curtis Granderson. Granderson was a partisan of some wild conspiracy theories including that the Apollo moon landings were a hoax , and yet he was one of the most popular Mets of his time.
The new regime running the Mets surely has the funds to offer a competitive contract to Bauer. Bauer has expressed interest in playing for a bona fide competitor, and of course the Mets did end up in last place in the NL East. But with Syndergaard likely to return to the mound sometime in the first half of the season, and perhaps some free agent signings on tap, Bauer could well consider the Mets to be a contender. It might be refreshing to have Bauer on the team…especially if he pitches like he did last year.