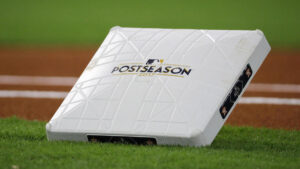 Sandy Alderson had a press conference on Monday. Nothing really unexpected or particularly noteworthy on the surface happened. But anytime Alderson speaks at length, there are always things that jump out. To me, the most interesting thing that he said was the following:
"I don't think we're a player away. I think we need more than that. Do we have a good foundation? Yes. I think we have an excellent foundation."
Did anyone think that the Mets were just a player away? It seems to me that most fans were advocating for the club to sign Trevor Bauer, J.T. Realmuto and George Springer not just because Steve Cohen has the money to do it but because all three of those guys address holes in the current roster. The rotation is thin, there's not a starting catcher currently on the team and the center field defense last season was not good.
The 2019 Braves won the division for the second straight year and amassed 97 Wins. In the offseason they imported Travis d'Arnaud, Cole Hamels and Marcell Ozuna. If a 97-win team felt it necessary to make three significant moves – why would anyone think a team that was on pace for a 70-win season was just a player away?
The real question is: Can the Mets bring in the necessary players in one offseason to address enough needs to be a serious playoff contender?
And the answer to that likely depends on if you think they're closer to the 86-win team they were in 2019 compared to the 70-win pace they played at last season. The big difference is that the 2020 squad was down three starting pitchers from the previous year. Right now, they're down one or two pitchers, depending on how much, if any, Noah Syndergaard is able to contribute in 2021.
The Mets essentially had six pitchers who started the vast majority of games for them in 2019, as deadline deals sent out Jason Vargas and brought in Marcus Stroman. Those six starters combined for 19.8 fWAR. How far away are the current Mets from that total? If they add Bauer and he pitches like he did in 2020 over an entire season, you'd have to think they were pretty close
The 2019 bullpen essentially had two reliable relievers and a bunch of arsonists. How does the current pen compare? Hopefully Edwin Diaz and Seth Lugo can match what Lugo and Justin Wilson gave the 2019 team. And the rest of the current crop of relievers (he said hopefully) couldn't be as bad as the rest of the '19 pen.
The top nine hitters for the 2019 club combined for 23.6 fWAR. And that was with no one producing even a 5.0 fWAR season and four players failing to reach a 2.0 mark, including one that didn't even reach a 1.0 season. Even without a starting catcher and the type of defensive lineup they would put out there with the current guys on the roster, it seems likely that the top nine position players in 2021 would be better than what the 2019 club had.
Let's work with the assumption that signing Bauer would make up for Zack Wheeler and put the team on par with the 2019 club. That's a mid-80s win total that's not quite good enough to make the playoffs. How many additions do you have to make along with Bauer for it to become a low-90s win total that's in serious running for the postseason?
Would an offseason that included Bauer, Realmuto and a reliever in the Brad Hand/Wilson level be enough? And that's not the only potential path. You could look to sign two starters, a lesser catcher and Springer. Or make a trade for Nolan Arenado, sign a second-tier center fielder and two starters. There are multiple ways to get to the extra needed wins.
If you really believe that you have an "excellent foundation," then there are ways to augment that in one offseason and be a legitimate playoff contender. That means making the right moves, enjoying reasonable health and enjoying a bit of good fortune along the way. Can Alderson make better offseason moves than Brodie Van Wagenen did last year when he spent money to bring in Rick Porcello, Dellin Betances, Jake Marisnick and Michael Wacha?
That's an incredibly low bar but we have to remember that Alderson didn't have great luck with free agent acquisitions his first go-round with the Mets. Of course, he'll have more cash and fewer distractions to deal with this time around, which hopefully will lead to better outcomes.
The goal is to be like the Dodgers and have a 40-man roster that's playoff caliber and that's something the Mets can't get to in one offseason. The Mets need the recent draft picks and international signings to move up the organizational ladder to get to that level, something that suffered a setback last year with no minor league season and Van Wagenen's hesitancy/objection to putting top prospects on the 60-man roster where they could get hands-on instruction with top coaches.
The Dodgers have suffered a ton of injuries the past few seasons and are still in the playoffs year after year because of that depth. The Mets could hit a home run with their free agent signings and still not make the playoffs if they suffered bad fortune in the injury department. But in an era where money is not the issue that it has been for the past decade, it seems a mistake not to try to build a 25-man roster capable of making the playoffs for the chance it could blow up in your face if multiple guys get hurt.