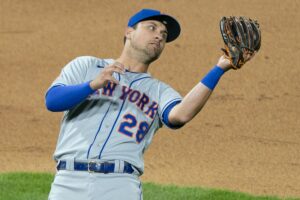 He's a right-handed hitter with power who can especially mash lefties. He's a great clubhouse guy, affordable, and can play multiple positions, but none of them well. Fans and teammates love him and his enthusiasm, thump, and versatility make him a valuable bench piece. But, as a starter he gets exposed. His glove is a liability at any position. Are we talking about current Met J.D. Davis or former Met Wilmer Flores?
The point is, we've seen this movie before. Flores was as beloved a Met as there's ever been and not just for his emotional on-field highlight. He had a knack for big hits and, in a pinch, he could play four positions. He lacked the range to play short, the footwork to play second, the arm to play third, and the right-handed glove and stretch to play first. Yet, we rooted hard for him because he was a great guy and a gamer with a clutch bat.
Playoff teams have guys like this on the bench. Expansion teams have guys like this playing every day. Davis would be a major weapon off the bench as a late inning pinch hitter. In double headers or when a player needs a rest, he can fill in at first base, third base, left field or right field. He also has a 94 mph fastball and was a college closer so he can mop up blowout games if needed. He can certainly DH in games at American League ball parks. But, for a team with real playoff aspirations, he simply does not belong in the everyday lineup. His play over this past week reminded us of how costly and all-too-common his errors are at third base and his play in left field the past two seasons was no better.
For now, the right move is to shore up the defense with Luis Guillorme or Jonathan Villar at third most games. Based on their respective track records, Villar has the superior bat, but Guillorme the better glove. Either is a vast improvement at the hot corner over Davis. Having a right-handed power bat available to pinch hit would be a great weapon for the Mets and having a reliable glove at third will save us a lot of runs and heartache.