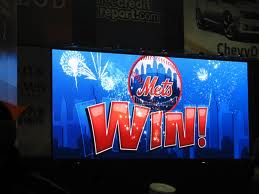 On a day that could have been emotionally fraught, the Mets made their seventh straight win look surprisingly easy. For the first time in three years, it was Matt Harvey day at Citi Field, and while his first inning harkened back to the glory days of 2012 – 2015, the others recalled 2016 – 2018, his fitful ending in Queens.
Harvey cruised through the bottom of the first, retiring Jonathan Villar, Francisco Lindor and Michael Conforto on a fly and two grounders. In the second, though, the Mets got hits from their first four batters to put three runs on the board. Pete Alonso led off with a solid double to right and Dominic Smith followed that with a base hit to center. Kevin Pillar then scorched hard liner on the first he saw, denting the top of the wall. Alonso and Smith both scored and Pillar had himself a triple. Jose Peraza hit the next pitch on the ground into left field, scoring Pillar.
On the Mets' side, Taijuan Walker seemed to be fighting his command in the early going, surrendering a double to Trey Mancini in the first. He walked two in the second, but was bailed out by his defense. After that, it was a quick turnaround to dominance through seven. By the time that seventh arrived, he was enjoying a six-run lead. In the third, Lindor singled leading off. After a flyout by Conforto, he stole second while Alonso also flew out. Smith lashed a base hit to left and Lindor scampered home with the Mets' fourth run. They put it away for good in the fifth, on a Villar hit-and-steal, a Conforto single after a productive flyout by Lindor, an Alonso walk, a double by Smith and another single by Peraza. That made it a 7-0 game, all hung on Harvey's ledger.
Walker tired in the seventh, giving up a scratch RBI to catcher Chance Sisco. Robert Gsellman came in for the eighth and had a bit of a rocky time of it, but kept the score at 7-1. Recently arrived Drew Smith closed it out with a flourish, striking out pinch-hitter Pat Valaika to end it.
Off-day tomorrow before they head to St. Pete to take on the Tampa Bay Rays.