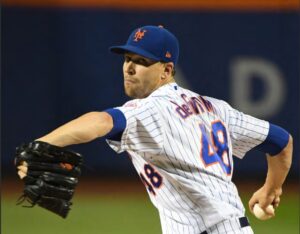 There's an abbreviation that gets used online and when texting that goes "SMH." While some might find a lascivious connotation to these three letters, it actually stands for "shake my head." When hitters face Jacob deGrom, that's all they can do. And sometimes, it's all Mets fans can do when deGrom leaves a game. Why he left the game after six brilliant innings is troubling. We're shaking our heads about that, too.
Before a roaring capacity crowd – one that was yearning to chant "M-V-P! M-V-P!" in his direction at every opportunity — deGrom was his usual masterful self through six innings. He was perfect through four, making good, professional hitters like Fernando Tatis, Jr., Wil Myers, Manny Machado and Tommy Pham look silly in the process. He struck out 10, walked none and allowed only a shift-beating single to Myers with one out in the fifth. That threat was erased when Mets' catcher James McCann gunned Myers down on an attempted steal of second. That loomed large in the bottom of the inning.
Blake Snell came close to matching deGrom pitch-for pitch through the first four. Jonathan Villar dribbled a base hit to third leading off the game for the Mets, but was removed from the base paths on a double play grounder by Francisco Lindor. The Mets mounted a threat in the bottom of the fourth, when Villar led off with a base hit and stole second, before Lindor flew out but both McCann and Pete Alonso walked. Dominic Smith quashed the uprising though, grounding into a 1-2-3 double play.
Kevin Pillar led off the bottom of the fifth with a double ripped past Pham in left field. New hero Billy McKinney followed with a double of his own, through second base and the Mets led 1-0. Snell then walked Jose Peraza. With deGrom at bat, he went to throw over to first, but failed to notice that first baseman Jake Cronenworth wasn't actually on the bag, and stopped his throw, midway. That's a balk – though Snell could be seen yelling "How is that a balk?!?!?" at the first base umpire. That took the bunt off, so deGrom simply lined the next pitch into left center to bring the two runners home. That was enough for Padres' manager Jayce Tingler and all for Snell. Austin Anderson snuffed out the inning after that.
deGrom left the game after six innings with what's being called "flexor tendinitis." The troubling part is that the flexor is a tendon on either side of the elbow. Miguel Castro came in to start the seventh, and clearly didn't have it. After striking out Pham, Tatis drove a double to left center. On the very next pitch, Cronenworth slammed a home run just into the Mets' bullpen in right center. Machado then walked. That was all Mets manager Luis Rojas needed to see, yanking Castro in favor of Seth Lugo. Lugo was able to squelch the threat, striking out Myers and inducing Jurickson Profar to line out to second. Aaron Loup replaced the still-recovering Lugo for the eighth and walked second baseman Ha-Seong Kim. He struck out catcher Victor Caratini. That brought up the speedy Jorge Mateo as a pinch hitter in the pitchers' spot. Mateo punched a shot up the middle, right off Loup's chest. He was able to recover and nail Caratini at second, but Rojas was cautious with his reliever and removed him, brining in closer Edwin Diaz for a four-out save. Before Diaz could throw a pitch, Mateo stole second. Pham then lined a ball down the right field line. It looked for all the world like a game-tying base hit, but it hung up long enough for McKinney to be able to run it down for the third out.
In the ninth, Diaz avenged Castro, striking out both Tatis and Cronenworth. Machado looped a single to right. Tingler sent up eternal villain Eric Hosmer to pinch hit for Myers. He worked the count to 1-2, but then Diaz induced a popup off the plate, which McCann snatched out of the air for the ballgame.
We will all hold our breath for awhile as we await news of deGrom's elbow.
Tomorrow, it'll be Joe Musgrove versus Marcus Stroman for game two of this huge series.