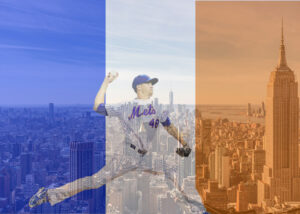 You can pretty much say that baseball is back. On Friday night, June 11, a maximum allowable capacity – 90% in these post-COVID days – stuffed Citi Field for the beginning of a much-anticipated series. Everyone's darling, the "It Girl" of 2021, the San Diego Padres came to town for their first and only road series with the Mets. The crowd was electric, roaring on every pitch, booing every enemy batter, lauding every Mets hitter. They went home satisfied with a dramatic 3-2 win on a cool, early-summer night.
Satisfied, but not necessarily happy.
You see, Jacob deGrom was the Mets' starting pitcher – thus accounting for the lion's share of the crowd buzz – and he was in the midst of another otherworldly outing, when he inexplicably left the game after six inning and exactly 80 pitches. Those pitches had combined for six innings, one hit, no walks and 10 strikeouts. In other words, a typical day at the office for deGrom in 2021. The crowd booed loudly when Luis Guillorme took deGrom's place in the on-deck circle in the bottom of the inning. As the game progressed, word got out that deGrom left the game due to something called "flexor tendinitis." On the TV, announcers Gary Cohen and Keith Hernandez speculated on what a "flexor" might be. At Hernandez's urging, Cohen googled it on the air and made the announcement that the flexor is a tendon that surrounds the elbow.
Wait! What, now? Elbow??? That's a word you never want to hear when any of your home team pitchers leaves with an injury, let alone one as godlike as deGrom. It wasn't all that long ago –2013 — when we heard similar words about the Mets' ace of the time, Matt Harvey. Down the stretch of an All-Star season, Harvey missed a start with what was euphemistically called "forearm discomfort." Less than a week later, Harvey was going in for the dreaded Tommy John surgery. So, the news that deGrom was feeling some "soreness" in his elbow – something he took great pains to downplay in his post-game virtual press gaggle – sent a definite chill down the collective spine of the Mets' fan base. For his part, deGrom is all sunny side up optimism. Having already had TJ surgery when he was a minor leaguer, he is painfully familiar with what a bad elbow feels like. Basically, he told us, this ain't that. He said he fully expects to make his next start, tentatively scheduled for Wednesday, June 16 against the Chicago Cubs. We fans are helpless, of course. We can only hope and pray that he's right, because if he isn't, all the early-season groovy karma and good vibes this team is experiencing could be flushed right down the can.
The Mets find themselves in first place, four games up on the Philadelphia Phillies and five ahead of the hated Atlanta Braves, the pre-season favorite in the NL East. That they've accomplished that much in the face of all the time lost to injury among their players is nothing short of remarkable. They have forged this lead largely without the help of Brandon Nimmo, Jeff McNeil, J.D. Davis and Michael Conforto, all of whom were counted on to be the backbone of the offense. Then, their replacements – the Johneshwy Fargas-es and Albert Almora-s of the world — went down. Heck, at one point, they were down to their sixth center fielder, Cameron Maybin, who wasn't even in their system at the time and mercifully no longer is. Pitcher Taijuan Walker, surprisingly effective as the third starter, also spent time on the shelf. They've been without Noah Syndergaard and Carlos Carrasco all year, cobbling together the fourth and fifth spots in the rotation with bullpen games, David Peterson and Joey Lucchesi. And yet, they are 31-24, the sixth best record in the NL, 11th in all of baseball.
Go figure.
If deGrom's injury is as serious as is currently feared, that could all come crashing down rather quickly. He is the glue that's holding this season together – the Mets' equivalent of Ronald Acuna, Jr. or Bryce Harper. Mets hit a rough patch? Well, deGrom pitches in three days, so everything will be alright. With that taken away, it is beyond unreasonable to expect the team to ride out deGrom's absence and emerge unscathed – if they can pull that off, this team will deserve to be celebrated in story and song. Actually, if you think about it, this situation goes right to the heart of what it means to be a Mets fan: hang on and hope for the best.
Really, it's all we can do.