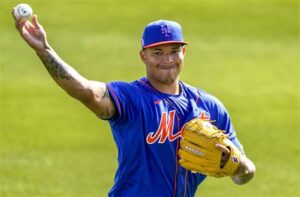 Well, this didn't age well…and it's only a month old.
Heading to the All-Star break, things were coming up aces in Mets land. They had the best record in the NL East, a three-and-a-half game lead over the Philadelphia Phillies, which, while not exactly commanding, looked likely to be enough of a cushion in a decidedly weak division. They were a happy band of rogues throughout the first half, getting by on great starting pitching, terrific team camaraderie and just enough offense to overcome a spate of rainouts and injuries. They had the best pitcher on the planet rested and ready to blast off in the second half, after having politely declined his All-Star selection in deference to his health. No, Jacob deGrom would not be attending the All-Star game, but feel-good story of the first half – Taijuan Walker – would take his place on the NL roster. Walker reached the big leagues as a highly touted rookie with the Seattle Mariners in 2014 and did creditable work in the Great Northwest before being traded to the Arizona Diamondbacks after the 2016 season. After one stellar year – and two injury-plagued ones – in the desert, he returned to Seattle via free agency in 2020, only to be traded to the Toronto Blue Jays at mid-season. Despite showing a return to health in 2020, Toronto cut him loose at the end of the year.
The Mets took a flier on him at the start of spring training this season and boy, were they ever glad they did. While deGrom was his usual brilliant self whenever he was out there, he wasn't out there often enough to suit anybody's taste. A series of nagging ailments caused him to miss a start here…then a start there…until finally begging out of the All-Star game to get himself healthy. Unfortunately, a month and a half on, he still hasn't been able to do that: his last appearance on a big-league mound came in a 4-3 win – deGrom didn't get the decision — over the Milwaukee Brewers on July 7. Now after suffering a few setbacks, it is doubtful we will see him at Citi Field again before the middle of September. Meanwhile, though, Walker had stepped his game up to a point where, while not replacing deGrom, exactly – I mean, who could do that? – he certainly softened the blow of deGrom's loss. Up to the All-Star break, Walker made 16 starts, and lasted into the sixth inning in half of them, pitching to a record of 7-3, with an ERA of 2.50 and allowing only six home runs. All-Star work, indeed. In the All-Star game, itself, though, he got nicked for one of the five runs the American League would score, surrendering a homer to former battery-mate Mike Zunino.
After that, neither the Mets, nor Walker have had an easy time of it. Since that All-Star game, Walker's record has squared at 7-7, his ERA has ballooned to 3.85 and – to your intrepid columnist, the key to his struggles this second half – he's given up 10 home runs in five starts, getting into the sixth inning in only two of them. Could it be fatigue? Could it be a new injury neither he nor we know about yet? Or could it be that the first half of his year was an outlier, that he really isn't as good as he was showing up until July 9? The same questions could be asked of the Mets as a whole.
Since the All-Star break, the Mets have gone 12-16 at this writing. They have dropped series to two of the worst teams in the League, the Pittsburgh Pirates and the Miami Marlins. They were swept in a series in Philadelphia last weekend, during which they finally fell out of first place tumbling all the way to third, behind the Phillies and the surging Atlanta Braves, engendering ridicule at their swift and seemingly inevitable decline. Heck, the way the Phils were carrying on last week, you'd have thought they'd won the damn World Series right then and there. Besides deGrom's setbacks, the Mets have also been beset by new injuries, particularly to their expensive stars Francisco Lindor and the newly acquired Javier Baez, neither of whom will be seen until the calendar turns to September. And to top it all off, they're now facing their most daunting stretch on the schedule, 13 games against the Los Angeles Dodgers and San Francisco Giants, covering two weeks and both coasts.
Reversals of fortune happen in almost every game and throughout every season. Fans always seem to want to turn a long 162-game baseball season into the NFL – a miniscule 16-game slate, where one loss can scuttle your whole year. Baseball isn't like that. It is all ebb-and-flow, rather than the dagger-jab that football is. Fortunes change over time and the people bemoaning –- or celebrating — the Mets' downfall on August 7 could very well be singing a different tune come September 30. And if the Mets are to reverse their current course, it wouldn't surprise me one bit if Taijuan Walker were the one to lead the charge.
I hope this one ages well.