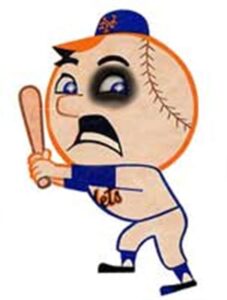 As this is written, the New York Mets are coming off a very large win over their crosstown rivals, the New York Yankees. The victory restores their record to .500, squaring up at 71-71 and putting them a bare half-game behind the Philadelphia Phillies for second place in the NL East, five behind the Atlanta Braves for the division lead, four games out of the second Wild Card slot. With 20 games to play, there is a good chance that this division race will come down to the final series of the year, a three-game set in Atlanta to see if there will be any late-October baseball at all for the Mets. It should be exciting, nail-biting and thrilling – everything you'd want pennant race baseball to be. Except it isn't.
Whether it's because the division is mediocre, whether it's because the Mets frittered away their own division lead post-All Star break or whether it's because they have played – despite protestations in the press – largely uninspired baseball since the beginning of July, the feeling around these parts is that even if they do eke out a post-season slot, it will feel grossly undeserved. They have been written off numerous times in the past month-and-a-half – heck I declared them "D-O-N-E, done!" on social media after their loss to the Marlins in Miami on Thursday night. There have been harsh words delivered in the direction of Manager Luis Rojas, closer Edwin Diaz, new acquisition Javier Baez, pre-season acquisition Francisco Lindor and the grand ol' man of the active roster – in terms of longevity – Michael Conforto. They have all struggled at points in the second half and they have all come under fire for it: they're supposed to be better.
It was different 36 years ago.
The 1985 Mets were a team of gritty pros. They were just constituting themselves as the dominant, swaggering "bad-boy" team we would marvel at the following year. With a passel of homegrown talent already in tow, they appeared poised to deliver on the promise of the previous year, when they leapt into contention out of nowhere, but falling six-and-a-half games behind the winning Chicago Cubs. They acquired catcher Gary Carter at the Winter Meetings, and he was looked at as the final piece to the puzzle that had begun two years earlier when first baseman Keith Hernandez was plucked from the St. Louis Cardinals. They started the year with a jolt, Carter delivering a walk-off home run in extra innings on Opening Day. They reeled off five wins in a row to start the year, grabbing hold of the division lead at 29-16 on June 2. After that, though, the trademarked "June Swoon" would gobble up all that goodwill. From June 3 through July 1, they went 9-19, diving all the way down to fourth place, five games behind the Cardinals. They began their long climb back the next day, winning 15 of their next 17, mostly against the lower-tier NL teams – a basic skill of a championship team. By August 13, they found themselves 26 games over .500 and leading the division by a game. They would falter again in late-August, dropping to two games behind the Cardinals. September would bring them six games, home-and-home against that St. Louis squad and they would end up winning four of those, but it wouldn't be enough: they lost series to the Montreal Expos, the Cubs and the Phillies in that same stretch, to leave them yearning, finishing three games behind the Cards. As I wrote years later, when I sponsored the 1985 Mets page on Baseball-Reference.com – you could do that in those pre-ad days – "Ultimately unsuccessful, but it sure was fun!" And it was.
As noted above, this year's version looks to be more of grind. Perhaps social media and sports-talk radio exacerbates this feeling of ennui among us, but the fans of 2021 have not embraced the team as the fans of 1985 did. Over here, it looks like they had a golden opportunity to take this division by the throat – that runaway Broadway hit, so to speak – and they blew it, and we knew exactly when. On Sunday, July 11, the last game before the All-Star break, a scheduled "bullpen" game started by Aaron Loup and facing the downtrodden Pittsburgh Pirates, they scored five runs in the first inning and tried to put the game on cruise control. Loup's bullpen mates couldn't pull it off and Diaz ended things with a ninth-inning implosion. The second game after the break was a near carbon copy: the only differences were that this one was on the road, the Mets blew a six-run lead, and Diaz's partner in futility was Seth Lugo. In August, they lost series to the Marlins and the Phillies that they shouldn't have and then went onto the jaws of death, facing the Los Angeles Dodgers and San Francisco Giants for 13 straight games, of which they won two. From that point, it became obvious that this team could not play with the big boys and that pinning our hopes on a miraculous stretch run would be a fool's errand.
They have 20 games to try and change our minds.