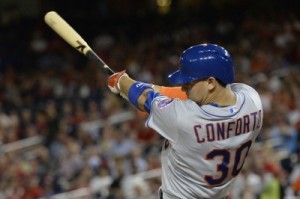 On paper, the Mets have had a roster brimming with talent that hasn't sniffed the post-season in five years. Whether you blame it on injuries, luck, coaching, or organizational approach, it's obvious we can't bring the exact same squad back for 2022. Here are five creative ways for the GM-to-be-named-later to shake things up.
1- Load up on geniuses. There's no luxury tax penalty for out-spending the competition on coaches, scouts, trainers, analysts, etc. The Mets should identify the best of the best and simply outpay their current employers. We have the richest owner in baseball and we should spend like it. The Mets should assemble an all-star roster of the best minds in the game. That's how we change the organizational approach to everything from talent scouting to player development to game strategy.
2 – Remember the sunk cost fallacy. We needn't feel obligated to re-invest in a player because we've already invested time, effort, and money in them. Michael Conforto seems like a terrific guy and there's something to be said for a player who grew up with our organization, but if he's gonna demand star dollars coming off a crap season, he can take his talents elsewhere. Ditto for Jeurys Familia and Noah Syndergaard, though these two are less likely to be so demanding. The same holds true for Marcus Stroman, Javier Baez and the rest of our free agents. We like these players, but there are other options to consider and we shouldn't limit ourselves to familiar faces.
3 – Open the darn check book. The new front office should look at all available free agents and determine which player(s) would most improve our team. The Omar Minaya way of doing things was to identify our biggest weakness and then target the best available player at that position. Think of signing Francisco Rodriguez as an example. The Sandy Alderson way is to do likewise, but shy away from the best available and convince ourselves that the second best guy is almost as good for less money and then we wind up with Jason Bay.  Instead, let's see who would give us the most WAR. Maybe it's a lockdown closer like Kenley Jansen that pushes Edwin Diaz to a setup role and lengthens and strengthens the entire bullpen. Maybe it's a veteran starting pitcher like Max Scherzer or Clayton Kershaw who pairs with Jacob deGrom to give us a killer 1-2 Young punch. Or maybe it's a bombs away hitter like Nick Castellanos or a versatile slugger like Kris Bryant. After we get that guy, then we can plug the holes and fill in at the margins.
4 – Talk to other GMs over cocktails. The Mets aren't the only team with talent and a high payroll who disappointed this year and is hungry to get back in the hunt. Surely there's a creative talent swap that could materialize between the Mets and one of the Padres, Blue Jays, Reds, Indians, and As. There's a lot of talent among those teams and with the exception of the Blue Jays, these teams would all love to shed some payroll. J.D. Davis, Dominic Smith, and David Peterson are all cost controlled, young and talented. We could also afford to part with one of our three future third baseman in the high minors. We could oblige taking on a salary from the Padres, say Wil Myers, but we also get one of their starting pitchers like Chris Paddack or Dinelson Lamet.
5 – Load up on depth. One of the main reasons why the Yankees and Dodgers are in the playoffs nearly every year is because they have the depth to overcome injuries. Both teams routinely stock their 40-man rosters with veteran pitchers and AAA depth players who are available in case of emergency. The Mets did a better job than usual this past year as the bench mob helped keep us in it in the first half, but having to turn to Jerad Eickhoff for four starts is never a good sign.
With so many possibilities, it's hard to imagine why more baseball execs aren't excited about the opportunity to take on the role of Mets GM. It's a challenging puzzle to piece together for sure, but with the support of Cohen and Sandy Alderson, it's a chance to be really innovative and take an unorthodox approach to bring winning back to Queens. #LFGM