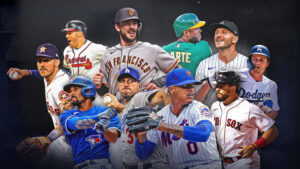 For far too many years, Mets fans have had to feign excitement over second tier free agents like Bobby Bonilla and Jason Bay, and way-past-their-prime free agents like Michael Cuddyer and Mo Vaughn. Meanwhile, across town, Yankee fans were laughing their way to the playoffs as their deep-pocketed ownership forked over whatever it took to land the biggest stars available like Alex Rodriguez, Roger Clemens, Randy Johnson and on and on. Now it's our frickin' turn.
In past years we'd be in a pickle as this Mets team has too much talent to rebuild but too many holes to compete. But, now that we have the richest owner in the sport who is determined to win and willing to spend, the cleat's on the other foot.
Hopefully, our new GM Billy Eppler can very quickly start telling Steve Cohen who to make the checks out to because the free agent list is starting to shrink as quality players are signing everywhere but Queens. Now, as former GM but still fancy-titled Sandy Alderson puts it, we don't have the farm system depth to make trades so free agency is our best route. That's doubly true considering that our potentially expendable players all have diminished trade value due to their less than stellar 2021 seasons.
If free agency is to be the primary focus, then there are two approaches. The first is to plug every hole with replacement level players. No thanks. The second and smarter option is to make like the 2009 Yankees and sign three stars. Unlike basketball, one star is not going to get you to the post-season. Just ask Mike Trout. However, three impactful players added to a core of Pete Alonso, Francisco Lindor, and Jacob deGrom makes for a talented roster. Start the season with six studs, see if some of the dead cats from last year bounce and we can reevaluate our top needs at the July trade deadline. Surely a few of those guys will re-emerge, either because they're motivated, supported by new teammates, inspired by a new manager, or just not listening to Hugh Quattlebaum.
So, who are the three new stars? Ideally one is a front end starting pitcher (Max Scherzer, Clayton Kershaw, Robbie Ray, Marcus Stroman, Kevin Gausman), one a middle of the order hitter (Marcus Semien, Kris Bryant, Nick Castellanos, Javy Baez, Seiya Suzuki) and the other is the real difference maker – either a speedy leadoff hitter (Starling Marte) to lengthen the lineup or a new closer (Kenley Jansen, Raisel Iglesias) to fortify the bullpen.
In 2009 the Yankees had a press conference that announced the signings of star pitchers C.C. Sabathia and A.J. Burnett and All-Star first basemen Mark Teixeria to free agent contracts totaling nearly a half billion dollars. That's a heck of a lot of scratch even 12 years later, but that spending spree did more than just give the Steinbrenners bragging rights and Yankee fans reasons to buy season tickets. It gave the Yankees immediate gratification as they went on to win the World Series that first season after the signings.
Now that might be a stretch, but the point is, three stars can make a much bigger impact in the standings than five or six average to good players. Three stars, a few hole pluggers, a couple bounce backs, and a motivational skipper and this team could be in it come July and then make a move or two to put them over the top. Sound crazy? Didn't the Braves just do that? The Atlanta Braves have talent but are far from a flawless team. Same for most recent World Series winners. With the cost of talent these days, only the Dodgers really have a team without holes. And really, is there anything stopping the Mets from spending like them now?
It's Black Friday. Let the spending spree begin!