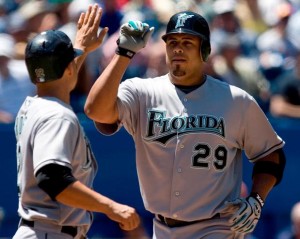 Prior to the Winter Meetings, general manager Sandy Alderson promised he would come home with some new players. Tuesday, he kept that promise by signing free agents Ronny Paulino and D.J. Carrasco. Paulino is a righty-hitting catcher while Carrasco is a rubber-armed reliever and both players do a nice job of filling roles on the 2011 Mets.
First off, Paulino is big. He is one of the few major league players I have actually stood next to and my first reaction was: Who is this guy? Paulino is listed at 6'3, 250 pounds and he is every bit that size, perhaps even a little bigger. Which brings us to the fact that Paulino will not be eligible until the second week of the 2011 season because he was suspended last August for using a banned substance.
The first thing people think of when they hear "suspended for a banned substance" is steroids. The first thing players say when the suspension hits is that it was some substance besides steroids. In Paulino's case, he claimed he was using a diet pill that contained a banned substance. That claim at least seems possible and I trust that the Mets' front office did their due diligence on this subject.
It would be hard to come up with a player who was more unlike current Mets catcher Josh Thole. Paulino is a righty with the ability to hit the ball out of any park. Thole is a lefty who chokes up on the bat and gets on base at a very nice rate for a catcher. They should complement each other very nicely. It's possible new manager Terry Collins will adapt a strict platoon at catcher. Here are their lifetime stats with the platoon advantage:
Thole versus RHP – .309/.382/.401
Paulino vs. LHP – .338/.390/.491
It's easy to read too much into these numbers, as Thole has compiled these in just 246 PA while Paulino has but 531 under his belt. But if they are able to do this for a full year, with Thole logging 400 PA and Paulino grabbing 200 – they could potentially put up a combined .315/.385/.435 line as the team's catcher. A combined .820 OPS would give the Mets one of the best offensive catching tandems around, all for less than $2 million.
If Paulino comes back and approximates the player he has been previously, no sure thing given the suspension, this could be a fantastic signing. Even if the worst happens and Paulino's offense disappears when he comes back, the Mets are only obligated for one season. It's hard to imagine the Mets doing better with their backup catcher.
Meanwhile, Carrasco gives the team an experienced arm in the bullpen. Given that the Mets have only two relievers – Francisco Rodriguez and Bobby Parnell – as definites in the 2011 pen, this was a needed addition.
While not the lefty that many fans wanted to see for the bullpen, Carrasco does offer durability and the option for Collins to use him in back-to-back games. Last year Carrasco appeared in 63 games and made back-to-back appearances 12 times.
And while the righty Carrasco fares better against RHB he is not awful against lefties. Last year he limited LHB to a .260/.333/.375 line and for his career lefties have a .789 OPS against Carrasco. He is not someone to bring in to face Ryan Howard, but at least he does not turn the average lefty batter into Josh Hamilton, as some righties do.
Carrasco throws virtually every pitch in the book, with his cutter being his top weapon. He's not overpowering, but he gets hitters to chase balls out of the strike zone. Carrasco had a career-best 7.47 K/9 last year. His main problem is control. He has a career 3.74 BB/9 and last year it was 3.91. If he can keep the walks under control, Carrasco will be an asset in middle relief. The Mets signed him to a two-year deal for $2.5 million or less money than Pedro Feliciano made last year.
So, as expected Alderson made two low-cost moves and as expected these moves on the surface seem to address specific needs. Not only did he sign a backup catcher, he got one that fit well with Thole. Not only did he get a reliever, he got one that could potentially get LHB out on a regular basis and limit the club's need for a LOOGY.
These are not sexy moves like signing one of the top free agents on the market. Instead these are moves that barely register with the average fan. Welcome to the 2010-11 offseason. While these may be yawn-inducing during the cold winter months, they are the types of moves that could pay big dividends during the regular season. And even if they blow up, neither player will hamstring the club long-term.