Seems to me…
…I've heard this song before. 30 years before, to be exact.
The 2010 MLB Winter Meetings have just concluded and the New York Mets did…nearly nothing. I take this as a good sign. Really.
Joan Whitney Payson was the Mets' first owner and if not their Patron Saint (that would be Casey Stengel) then at least an Archangel. She was a HUGE baseball fan and when her beloved New York Giants were ripped from their Polo Grounds moorings in 1957, she was the loudest drum-beater for the return of NL ball to New York. Hence, the Mets.
She doted on the team and was as generous as the times, the Reserve Clause and Board Chairman M. Donald Grant would allow. She famously offered the San Francisco Giants $1,000,000.00 for Willie Mays in 1963 (she was politely turned down).
Mrs. Payson passed away in 1975 and the club fell to her widower, Charles Shipman Payson. Mr. Payson was a mostly humorless man – from what I can gather — who was no fan of baseball, nor the Mets. With the passing of Mrs. Payson, the aforementioned M. Donald gained a louder and louder voice in the front office. This was a shame, seeing as Grant turned out to be tone-deaf.
By 1975, the Reserve Clause was on life-support. Free agency (ownership's worst nightmare) was fast becoming a reality. Mr. Payson, daughter Lorinda de Roulet and Grant ignored the rumblings and ran the team as if it were still 1937. The team floundered. Collapsed. Sunk. Stunk. .
THE all-time Met, Tom Seaver was famously and tearfully sent packing in 1977. Grant gave an explanation comparing the episode to a game of contract bridge. OH…KAY… And while fans and media begged the team to loosen the purse strings, Payson became Mr. Potter from It's A Wonderful Life: "Not with my money." So while the Yankees signed Catfish Hunter, Reggie Jackson and Don Gullett, the Mets got Elliot Maddox and Tom Hausman. When the Phillies signed Pete Rose, the Mets traded for disgruntled Richie Hebner. Yippee…
With the team somewhere south of rock bottom, Grant was discharged and Mr. Payson sold the team. We few remaining Met fans shouted HALLELUJAH! Now we'll see something! New, young, dynamic ownership! A new GM who'd been successful elsewhere! We've got money and we're not afraid to spend it!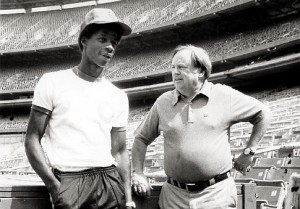 Except we didn't. The sale of the team took place after the 1980 Winter Meetings, so there wasn't a whole lot of off-season to work with. Frank Cashen, the new GM fresh off a decade of success with the Baltimore Orioles (and how funny does that sound nowadays?), didn't complete his in-house evaluations until the eve of spring training, so the "excitement" consisted of new faces Phil Mankowski, Jerry Morales, Mike Jorgensen and Mark "Boom Boom" Bomback, all acquired under the old regime. We fans had to content ourselves with a terrific mid-season pick-up, outfielder Claudell Washington. And with the first overall pick in that year's June amateur draft, Cashen was able to pluck a fellow named Darryl Strawberry.
And you know what?
It was all OK.
We fans knew there were better times ahead. OK, so Washington bolted when the Braves offered ridiculous (for the times and talent) money to him. Fine, we couldn't compete with that and didn't try. There was talent and intelligence in residence in the lower minors and meanwhile, Cashen was able to supplement the major league roster with some veteran 2nd tier players (Dave Kingman and Rusty Staub, returnees from the mid-70's among them) until by 1984, we found ourselves rooting for a bonafide contender.
Sound familiar?
With Sandy Alderson, the new GM fresh off two decades of success elsewhere, in charge I sense a similar pattern, but I think the 2011 Mets are already in far better shape than their long-ago counterparts. The '80 Mets didn't have even a hint of a David Wright or Jose Reyes or Carlos Beltran or Johan Santana, from a pure talent standpoint. They were starting from Lee Mazzilli and Doug Flynn and Steve Henderson and Pat Zachry. So from where I sit, Sandy Alderson gets all the latitude in the world; he knows what he's doing far better than I (or anyone else of us fans) do.